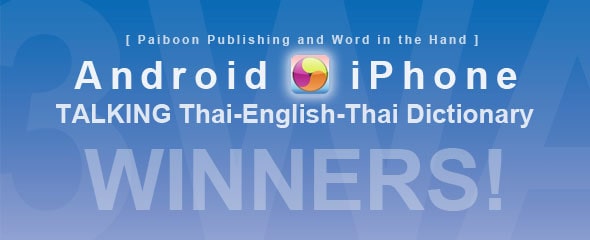 The WINNERS of the Talking Thai–English–Thai Dictionary Apps…
Finally, the three winners of Chris and Benjawan's Talking Thai–English–Thai Dictionary. Yeah!
In order: Rob, Lawrence and Mike. If you three could please send a message via my contact form I'll get you the app codes asap (or later – life is full of weirdness lately).
I would also like to take this opportunity to thank the creators of the dictionary, Chris Pirazzi (Word in the Hand) and Benjawan Becker (Paiboon Publishing), for working their butts off to give the Thai language community such a wonderful dictionary. Everyone is raving about the dictionary, and for good reason. It's fabulous.
Another thanks goes to Snap (Learning Thai in Chiang mai). Without her help, the Android part of the review wouldn't have happened: Android and iPhone: Talking Thai-English-Thai Dictionary Review. Ta!
And there's one more to thank. Talen (Thailand Land of Smiles – no longer online) took the time to send people my way, even though he was mired in a crisis. Thanks buddy 🙂
If you didn't win the Talking Thai-English-Thai Dictionary iPhone App…



Apologies if you didn't win this fabulous iPhone app. If you are looking to purchase a copy of the app you can do so direct from iTunes or stop by Word in the Hand. If you prefer a hardcopy version of the dictionary instead, then order from Paiboon Publishing.
Again, congrats everyone!