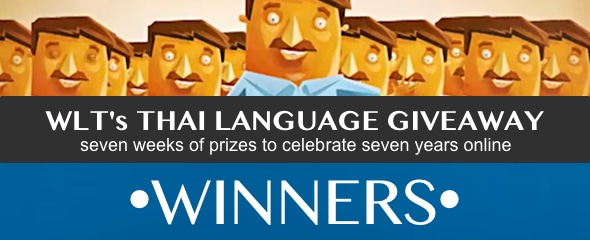 WINNERS to WLT's FIFTH week of the Thai Language Giveaway…
Here we are giving away prizes for the FIFTH week of the WLT's seven weeks of Thai Language Giveaways!
As Joy and Jay from Learn Thai Podcast had a difficult time choosing between so many well-thought-out comments, eight favourites were put through the handy Random Name Picker.
Here are the winners: Aleishea, Bernard Le Du, Steve, Dafydd.
From Jo and Jay: We hope our course helps you to learn Thai more quickly and easily. Enjoy the course and thank you Cat for running the best learn Thai blog out there!

If the winners would please send a message via my contact form, we'll get your prizes sorted. Please note that if you do not contact me by next Wednesday, your prize will be given to the winner/s in waiting (already chosen).
I would like to thank Jo and Jay for sponsoring this giveaway with their wonderful product (Learn Thai Podcast should be in every Thai student's arsenal). An additional thanks goes to Jay who come to the rescue right before the contest! What bad timing it was. WLT's feedburner quit working and after weeks of tearing out my hair, Jay found the glitch that was muffing up the works. So a double thanks from me goes to LTP!
And as always, my thanks go to everyone who left comments. Please remember that even if you've already won, you are still eligible to keep on winning! Good luck everyone.
To get a complete list of the prizes and schedule, read the first post in the series, Please Vote THAI and WIN! 2015: Top 100 Language Lovers Competition.
WLTs 2015 Thai Language Giveaway…