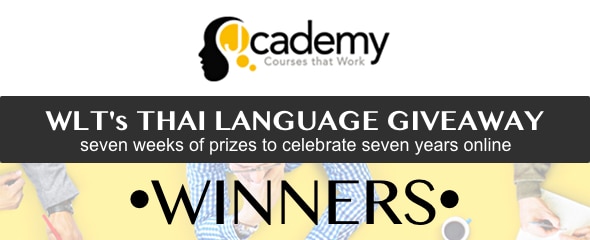 WINNERS to WLT's SEVENTH week of the Thai Language Giveaway…
Here we are giving away prizes for the SEVENTH week of the WLT's seven weeks of Thai Language Giveaways!
Chosen by jcademy.com, here are the winners: Luke Taylor, Biff Tastic, Chris, Mary, and Ann Norman.
Stu Jay Raj: We hope that you find the courses and materials, as interesting and fun as we had creating it. Keep a eye on Catherine's site and Jcademy for regular updates.
If the winners would please send a message via my contact form, we'll get your prizes sorted. Please note that if you do not contact me by next Wednesday, your prize will be given to the winner/s in waiting (already chosen).
I would like to thank Stu Jay Raj and his team for joining in this wonderful giveaway. And my thanks also goes to everyone who left comments!
To get a complete list of the prizes and schedule, read the first post in the series, Please Vote THAI and WIN! 2015: Top 100 Language Lovers Competition.
WLTs 2015 Thai Language Giveaway…