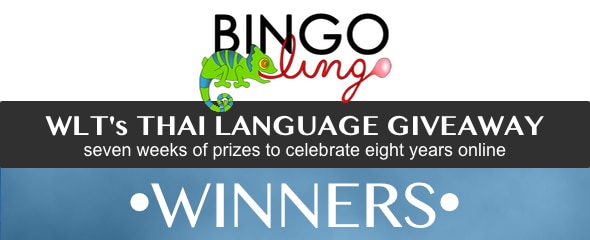 Welcome to the THIRD week of WLT's seven weeks of Thai Language Giveaways. The Language Giveaways are a part of the Language Lovers Competition. The LLC is now over – the results and a huge THANK YOU from me are in my post, Thank You for Voting: Top Language Lovers of 2016.
Chosen by Arthit (Bingo-Lingo), here are the winners of Read Thai in 10 Days:
Hello everyone, thank you for sharing your experience in learning Thai and expressing your interest in my book. I appreciate your participation and hope the winners get the most out of Read Thai in 10 Days!

And the winners are … FABIAN, BERNARD, MATTHEW and PETER!

Congratulations to all of you for winning Read Thai in 10 Days by Bingo-Lingo (with audio). In fact, you are going to receive the 2ND EDITION of my book with a new cover as well! I have rewritten the chapters about Thai tone and devised something I call 'DLS string method' to help you visualise the tones rules for those who prefer picturing than memorising rules. Please tell me how you find my new method and give me feedback 🙂

Happy learning! Bingo, Author of RTITD
Winners, if you would please send your addresses via WLT's contact form we'll get the books to you asap. Again, congrats!
Bingo, thank you so much for sponsoring the THIRD week of WLT's giveaway. And lucky them, to get your second edition (I'm envious!) My thanks also go to those leaving comments – be sure to come back for more (there's plenty more).
Note: To get a list of the coming prizes please read the first post in the series, Vote THAI and WIN! | SEVEN Weeks of FREE Thai Giveaways.
The SET Foundation would appreciate our help…
As previously mentioned, the SET Foundation seriously needs our help this year. Did you know that…
SET was originally established to help just one needy student (Seckson) study for a Bachelor degree in Physics. With SET support, he went on to gain a Masters and a PhD. Dr Seckson is now director of the Institute of Fundamental Studies at Naresuan University.
If you can, please donate to The SET Foundation by filling out the Paypal button at the top right of their site. Thanks in advance 🙂