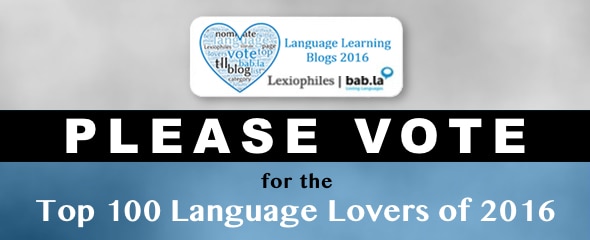 Please VOTE for the Top 100 Language Lovers…
And now here we go … the Top 100 Language Lovers Competition! If you don't want to read further (just want to vote) click on the button to your right.
There are five categories to vote in: Language Learning Blogs, Language Professionals Blogs, Language Facebook Pages, Language Twitter Accounts, and Language YouTube Channels.
Competition rules: You can only vote for one entry per section. For more go to: Top 100 Language Lovers 2016 – It's here again!
WLT has been spiffing up for the competition…
Every year the Language Lovers Competition, organised by bab.la and Lexiophiles, inspires me to improve this website.
This year I've added prolific new Guest Writer, Sean Harley. Sean's Thai Cat Cartoon Series is fabulous! In total, there are 250 Thai Cat Cartoons to translate (only 219 to go).
Four other new Guest Writers to watch out for are Yuki Tachaya (Colloquial Thai and Language Connectors), Kru Jiab (Feeling Like a Thai series), Arthit Juyaso (Thai Time series), and the cheeky Wannaporn Muangkham (Useful Thai Phrases You Won't Find in a Travel Phrasebook series).
And please don't forget the other Guest Writers who have done a fabulous job keeping WLT updated. There's a long list under Guest Writers. And in the navagation you'll find the prolific writers: Hugh Leong (Thai Language Thai Culture), Rikker Dockum (Thai 101 Learners Series), Tod Daniels (Thai Language Schools), Andrej, and Luke Cassady-Dorion.
Also added to WLT are the growing Thai-Thai & Thai-English Study Resources. Learning a foreign language that's been translated from English tends to cause weirdness so this was my solution for those learning Thai.
Last year I discovered that WLT has a following of the visually impaired. During a discussion, it was mentioned that transliteration causes a problem with screen readers. To rectify this issue I've switched to putting transliteration on pdf downloads. This also helps those who are learning how to read Thai as transliteration tends to be a barrier (making it too easy to cheat).
And I'm betting you've all noticed my dramatic new banner? After digging around I discovered that the origins are not Thai or Indian even; the design goes all the way back to Greek mythology's Atlas. I kid you not. But, more on that later.
For the rest, do check out the Please Start Here page. I hope it helps. At eight years old WLT has over 800 posts so help is needed.
SEVEN weeks of FREE Thai giveaways…
Last year during the Language Lovers Competition there were megga Thai product giveaways. This year the fabulous people supporting the Thai industry have again donated products. Thanks all!
And as this post is too long already, tomorrow I'll share what's going on. Until then, anon.