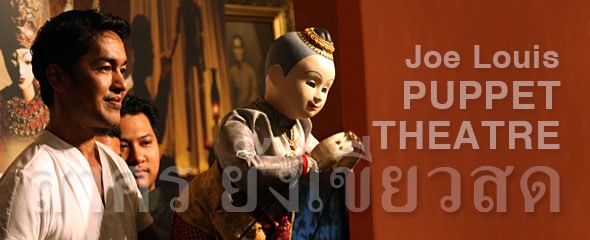 When googling goes wrong…
Before I head out into Thailand, I learn what I can about my target subject. It usually works a charm, but this time my googling ended with a FAIL.
You see, finding outdated(?) information about the Joe Louis Thai Puppet Theatre set my heart on a traditional puppet show with… well… why don't I just tell you what happened…
The Joe Louis Thai puppet theatre in Suan Lum Night Bazaar…
After visiting the workplace and home of a Thai puppeteer (post still to come), I started researching live puppet shows. It didn't take long to suss that the top billing in Bangkok went to the Joe Louis Thai Puppet Theatre.
Hun Lakorn Lek (Joe Louis), Sakorn Natasilp Troupe: In 1996, the Commission for National Culture nominated Sakorn for the title of National Artist (Performing Arts Category: Small Theatrical Puppetry). This nomination was made in the name of His Majesty the King, in whose name the honorific title of National Artist was bestowed.

This recognition enabled Sakorn and his children to raise enough money to open a small puppet theatre near their home in Nontaburi province. The theater was called the Joe Louis Theater. In May 2002, the theater was moved to its present and more central location at the Suan Lum Night Bazaar in Bangkok.
Right away my research fell flat. Why? For starters, because the information on TAT's website (Thai Tourism), led me to believe that…
A visit to the theatre also includes an opportunity to witness the painstaking process of crafting a Thai traditional mask known as the Hua Khon, as taught by venerable artist Joe Louis to his students.

Before the performance starts, Joe Louis staff will take guests on a "Joe Louis Cultural Tour" featuring the "Puppet Gallery", an exhibition on the history of Hun Lakhon Lek puppets and the theatre, puppet- making demonstration and the art of controlling the puppet.
And this video only reinforced it…
Wanting to know more (and because the theatre's online ticket purchasing didn't work), I contacted them via email. Nothing. Nadda. No reply. Darn. I do know better (I should have called instead).
No matter. After reading the below instructions from yet another website extolling the magnificent extras, I did what was suggested. I arrived early.
Thaizer.com: Arriving early enables visitors to go on a tour of the theatre and see how the puppets are made and witness a demonstration of how they are manipulated in the performance.
So there I was at Suan Lum Night Bazaar, all set for a fabulous traditional Thai puppet experience. Early. Yet ten minutes after getting in a line of two, I'm still behind a lady all upset about Thai double pricing.
Thai price: 400 baht
Expat price: 900 baht
Some expats resent the double pricing, but I can't be bothered getting fussed (especially if a show/event it worth it). If I don't want to pay double, I don't go. Simple. For instance, I wouldn't pay OTT to see a few fish at Siam Ocean World, but traditional puppets (for me) do have a pull.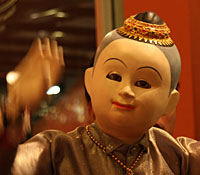 Also, I was looking at it this way: 900 baht included an evening of Thai traditional puppetry, with a cultural tour showing how the masks are made, and how the puppets are manipulated. All with a bit of history thrown in. Nice.
Ticket finally in hand, I asked the staff where to go next. To, you know, attend the promised traditional mask making demonstration and cultural tour.
But the staff did not know what I was on about. Were they new hires? I don't know. But I asked the same question in many ways, receiving the same answer. Nadda. Never heard of it. Not an option.
So, with time to waste, I wandered around the bazaar. And wandered, and wandered, and wandered, until it was almost time for the show. Once back in the theatre, I drifted around the ground floor, enjoying the puppets behind glass. That over with (and nothing else to do), I headed upstairs to my seat.
The light dimmed, and videos of the puppets came on. One on each side of the stage.
Darn. Compared to expectations due to my failed google abilities – a traditional Thai puppet making experience – getting videos instead was disappointing.
(see what I mean?)
But when the traditional Thai puppet dancers finally came out, I was chuffed. Immensely. The talented dancers wove in and out, three to a puppet. It was a wonderful/superb/exciting/wickedly fabulous presentation. And the performing puppeteers dancing with the traditional Thai puppets were just as promised. Amazing.
If pressed to share a preference between the puppet shows I've seen in my travels and these, the traditional Thai puppets would be it. No contest.
But… At the Joe Louis theatre, there are only a handful of traditional dances. The rest of the time is taken up by the story of Joe Louis' life, as well as puppets created in the likeness of two western rock singers. And as I was there for the traditional Thai puppets, I felt that the unexpected extras took up too much time. I wanted the other puppets back.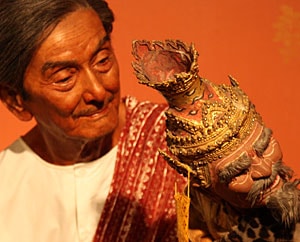 And here's another thing… perhaps minor…
When you are not being educated about Joe's life, the disturbingly lifelike, life-sized puppet of the long dead puppeteer is left sitting on the side of the stage. In a wheelchair.
It was a bit macabre for my tastes, especially when my attention was (at times) drawn away from middle stage (where all of the action was going on), to the Joe Louis puppet moving his wheelchair around.
The show finished with a dancing, singing, Micheal Jackson puppet. And one other (who was that women?)
Note: Others in the audience raved about Micheal Jackson and what's her name, so that section of the performance was not a loss for many (most?) And perhaps, just me. Did anyone here see the show? If so, what did you think?
Awhile later I discussed the show with a friend who had attended with (I believe) Joe Louis's son gracing the stage. There, Joe's son explained that he wanted to put his personal mark on the show by modernising the performance. Hence, the additional puppets: Joe Louis in a wheelchair, Micheal Jackson, and she who has not been named.
Fair enough. He's had a lifetime of tradition and now wants to move on. And hey, maybe parts of Thailand would prefer to move on too?
Soooooooooo… I guess my next project will focus on finding traditional Thai puppets. On their own.
Only this time, I'll do a better job of researching.
Wish me luck? Or even… help point the way?