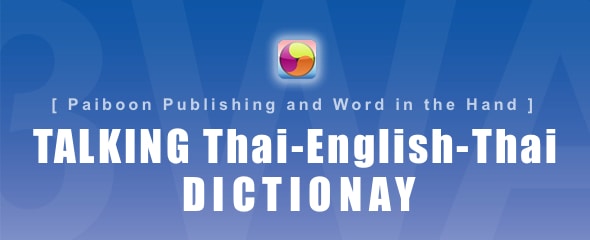 The Talking Thai–English–Thai Dictionary Update…
I've been known to bug Chris Pirazzi about this and that software and lately it's been about his progress with a brand spanking new TalkingThai phrasebook, as well as the update to Talking Thai–English–Thai Dictionary. Only just yesterday I received a positive reply to both. Excellent.
I'll go into detail about the TalkingThai phrasebook in a later post, but for now, in the hands of the Apple gods is the latest update to the Talking Thai–English–Thai Dictionary.
Chris Pirazzi: Apple's iOS 8.x "upgrades" came as a nasty surprise that broke many apps (not to mention making phone calls!). No wonder why, after an initial rush to upgrade, customer adoption of iOS 8 is slower than any recent iOS version.

In the case of the Talking Thai–English–Thai Dictionary from Paiboon Publishing and Word in the Hand, iOS 8 bugs took away access to key functionality that we have now restored in a free 1.8 app update just submitted to Apple. The features affected include "Find Words Inside," "Real-World Fonts," "Explain Spelling," "Google Thai Word," and "Clear History," as well as the Paiboon Thai Script and Thai Sound custom keyboards. This app update also sports a new iOS 7/8 visual style, adds full-screen support on iPhone 5/6/6+, and fixes some rare reported app hangs. Now we are all waiting for Apple to approve our app update (a rather arbitrary process that can take days to weeks) and then you will see an update show in the App Store app on your device.

We'd also like everyone to know that we are nearing completion of a massive 2.0 upgrade to your dictionary app that has been more than two years in the making. This upcoming free 2.0 upgrade will include thousands of new Thai words suggested by users, thousands of complete, ready-to-use customizable phrases divided into 200+ practical categories like "Hotel," "Ordering Food," "Renting a Place," and "Price Haggling," a "Favorites" feature that lets you save and organize words and phrases you are learning, full-text search that lets you find words in the middle of phrases, and a complete rewrite of the internals of the app that will allow us to issue more frequent cross-platform upgrades in the future. Our first step will be to release a standalone phrasebook-only app, then fold all of its features and vocabulary into your dictionary app as a free 2.0 upgrade.
Thanks Chris. So to clarify, first out will be the Talking Thai–English–Thai Dictionary 1.8 update, followed by the Talking Thai Phrasebook 1.0. And finally, the Thai–English–Thai Dictionary 2.0 super update which will include the Talking Thai Phrasebook. If you feel you can't wait, go ahead and purchase the phrasebook (we can always use the support).
The Talking Thai–English–Thai Dictionary just keeps on getting better. Students of the Thai language are extremely lucky in that they have access to such a top-notch dictionary. When I went to source an iOS app dictionary for Italian, none I found came even close in quality. We are indeed spoilt.