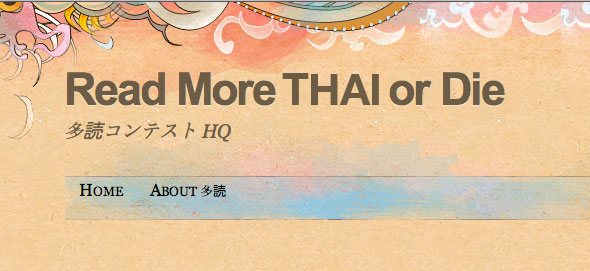 Read More THAI or Die…
Andrej from 'Bakunin learns Thai' (no longer online) recently reminded me that the registration for the Tadoku challenge, Read More or Die, is now open for July.
From Read More or Die…
The three basic Tadoku principles:
Read without using a dictionary. If you can't read it without using a dictionary, read something easier.
Skip over whatever you don't understand.
If you find that what you're reading is boring or difficult, toss it and pick up something else!
Quoting Andrej…
The idea is to read as much as you can at a fairly easy level, so that you:
Consolidate language knowledge.
Casually pick up new words.
Casually pick up new structures.
Deepen your relationship with Thai culture.
Increase your reading speed.
Develop a reading habit.
…etc.
The contest will be run via twitter. To register to read Thai, just tweet: @TadokuBot #reg #th
More about the Tadoku challenge:
how-to-learn-any-language.com: Tadoku – Read More or Die
I'll be reading for the month of July but as I'm traveling extensively I'll forgo registering. If you are joining the Tadoku challenge please let me know as I'd love to cheer you on.