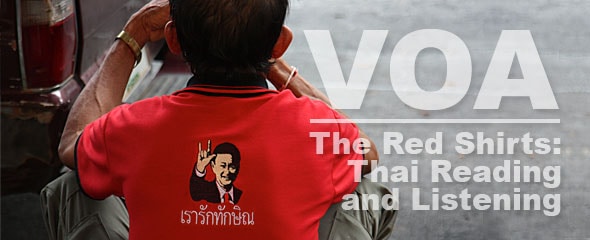 Learn Thai with the Red Shirts…
When it comes to learning the Thai language, there is a real need for decent materials. Gaccha, an expat living in Bangkok, aims to inspire others to contribute their Thai skills towards creating the needed materials.
I 'met' Gaccha online last year when he translated and compiled a Pulp Fiction video on YouTube. He's just released an article from Voice of America (first shared on Thaivisa.com).
Btw: For the record, I am not Red or Yellow. I am for the Thai people.
And now… over to Gaccha…
I have taken a Thai language article on Thaksin and the red shirts from Voice of America, and translated every single word(**) and transliterated all of it for maximum user advantage. There is then a Thai audio that is almost identical to the script. And there is an identical article in English. So for a one page article it is now 24 pages long.
PDF format: Red Shirts Thaksin Rally
Red Shirts Thaksin Rally:


Red Repetition:

I suggest the following…
Advanced level:
Listen to the audio initially and try to catch every word.
Check against the article.
Intermediate:
Read the article and try to work out meanings of words that you do not recognise.
Check these words and then read again.
Then listen to the audio for around three sentences until your brain can instantly recognise every word.
Beginner:
Try to read each word and check against the transliteration.
Listen to the audio and see if you can pick up any words.
Try to learn about 5 words and listen again to the audio.
Please note the following key:
[G] Grammar– requires individual look up the word in a grammar book.
(*) Word is a repeat. You failed to remember from first appearance in the article.
// indicates this is another meaning of the word.
/ indicates this is a variation on a single meaning of word.
I have done this partially to show you all what a great idea this is and partially to persuade language publisher professionals to do the same.
(**) I have not translated what are essentially grammar points. If you don't know these already you are probably a bit out of your depth already. Check out a beginner grammar book.
regards,
Gaccha