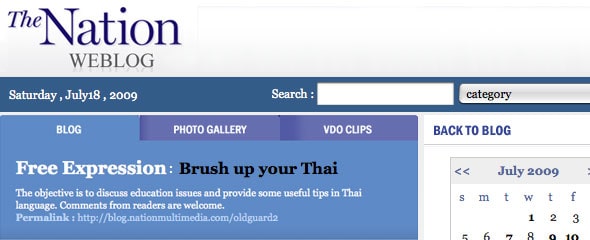 A Thai language learning find…
In May of this year, Khun Krajog started a blog on The Nation Weblog (no longer online). I don't know much about blogging at The Nation, but apparently members of the public are (were) free to write blogs on their subject of choice (?)
Khun Krajog's blog, Brush up your Thai (now offline), was a mix of Thai language tips, Buddhism, Thai culture and history. Just my thing.
Free Expression
The objective is to discuss education issues and provide some useful tips in Thai language. Comments from readers are welcome.
Odd, I know, but I often enjoy blog comments almost as much as the posts themselves. Especially when the authors take the time to explain further, as Khun Krajog does.
EDIT: Most of his posts (learning Thai included) are now gone.
GOODBYE to all my blog readers

I just have received an email from The Nation weblog admin asking me to delete all my entries under an order from the president of The Nation, no other reasons given. So I would like to say goodbye to you all who regularly read my two blogs, Free Speech Forum and Free Expression on various subjects.
Dear Khun Krajog, I am sad that your work was taken offline. I didn't read your posts on other subjects but I quite enjoyed your opinions on the subject of learning Thai (even if I didn't agree with everything).
FRT – Farang Rak Thai…
Going through The Nation Weblog, I found another blog with a few posts on learning Thai, only this one is written by a Westerner.
FRT – Farang Rak Thai:
If you want to speak Thai, then read Thai!
Helping farangs to speak better Thai
UPDATE: And now that's offline as well. It's a good thing I copy off posts I enjoy …