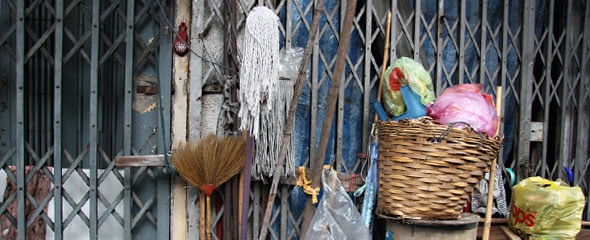 Expat Guide on twitter, tweets…
Today, Sharon Gilor (expatsguide), tweeted the post, Seven Habits of Highly Ineffective Expats.
I have noticed in strangers, friends, and yes, even myself, seven habits that I think make you a very ineffective expat. My rookie year in China is nearing a close, so I plan on making a New Year's resolution of sorts to break these bad habits that I know I have, and I sure to not be alone in them.
Habits of Highly Ineffective Expats: 6) Decadence…
"Don't worry about spilling anything, the ayi will clean it"
"I don't cook anymore, eating out is so cheap"
Number six is why I'm responding with a post and not in Glen's comments.
While this is part of the attraction for a lot of people, I hope that you ask yourself what you think of the people who have that sort of a lifestyle back home.
What would I think? Well, I think kudos to them for attaining such a high standard of living.
Life is too short to waste doing what you don't want to do, while avoiding what you do what to do. So go! Do! Live your life to the fullest! After all, it is your life.
When I left home as a teen, it was not long before I was fed up with having to do all of the washing, ironing, and cleaning. I even disliked the process of paying bills. And while I loved to cook intricate, fiddly meals (I still do), I found the daily grind of having to cook tedious.
Fast forward several years… after being married for a few months I knew exactly what I wanted.
I really really wanted wife…
That's right. I wanted a wife.
I wanted someone else to pick up MY socks, iron MY clothes, and cook MY dinners too!
And when I moved to Borneo, I did just that. I got myself a 'wife'. And it was grand.
I had nine years in Borneo with a live in who washed, ironed, cooked, cleaned, and even handled the weedwacker chap and occasional workmen.
But when I moved to Thailand I decided to forgo a full-time 'wife'.
Why? Because during those nine years I discovered what men already knew.
Wives are a lot of work.
With a full-time wife you sometimes have to deal with a rolling litany of personal issues. Issues you might prefer to do without.
So now I don't have a full-time wife. I have a Wednesday wife.
While she does not cook, she does wash, iron, clean my house, water the plants, and take my clothes for mending. She bosses the workmen and delivery men around. She even runs to 7 to pay my bills.
The habits of highly effective expats…
Face it. One of the big pluses of being an expat is the fantastic lifestyle! And a given, it is all up to you. Your choice.
I don't choose to have all of the sinful pleasures that are available to expats living in Thailand. But there is a simple reason for that. Not everything suits me personally.
Just like I don't choose to have a full-time maid, I don't choose to have a car and driver either. I made this choice after waiting in too many lobbies, at too many store fronts, and on too many street corners for the driver to show. And yeah, paeng mâak!
So instead of the extra expense of a car and driver, I keep a few Bangkok taxis on speed dial for the long-hauls, and stick my arm out for the rest.
Oh, and I'm really really big on getting everything delivered. Everything I possibly can anyway.
Sometimes I order in on a Friday night because I don't want to fight Bangkok traffic.
But wait! I'm not finished with the delivery angle. Because if Bangkok does something really well, it's delivery.
Bangkok does indeed deliver. My vet does house calls. My Thai teacher does too. When I find the books I want, I contact Danny at DCO, who sends them over by motorcycle taxi (saves me money on taxis). And if I lose my head at Villa (which does not happen often), they send my groceries around after me.
I haven't figured out Paragon. Yet.
And I travel. Extensively. But not ott. Flights are cheaper from SE Asia than from the West so I can. But a given, I also travel inside Thailand.
I know you didn't ask for it, but… in my opinion, when given the opportunity, skipping the chance to see the world we live in would be the biggest sin of all. Italy, here I come…
Does all of this make me an ineffective Expat?
Heck no! It makes me a highly effective expat. For sure.
Ok, but does it make me a decadent expat? Hmmm…
Bottoms up…