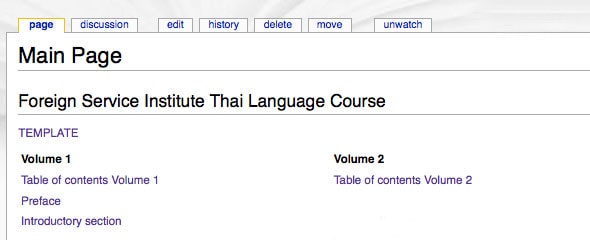 The free FSI Thai lessons…
If you have been anywhere near WLT's extensive resource page, Learn Thai for FREE, then you'll know all about the fantastic Thai lessons created by the Foreign Service Institute.
And ever since I've known about the FSI Thai course, I've wanted to change that drat transliteration (karaoke Thai) into proper Thai script.
And now I'm getting my wish.
Last week, 4 members from the ThaiVisa Thai language forum got together to do just that.
Some are doing the Thai script, others are coding in the English, while some are doing both.
And it's all going on a wiki.
The FSIwiki…
But here's the problem: We need your help.
Coding in a wiki is time intensive, so we are asking for volunteers.
If you don't know how to code, templates are available. If you don't know how to do the Thai script, then coding in the English is fine. If you don't feel comfortable coding but can handle the Thai, others will code for you. And if you are a wizz at everything, well, bless your heart 🙂
Anyway, if you'd like to help just drop me a line and I'll sign you in.
UPDATE: FSI Thai is now at thai-notes.com.