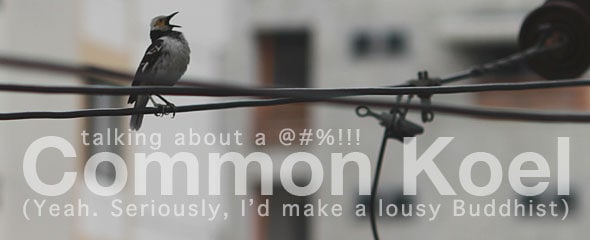 Gawd do those darn birds drive me crazy!…
Around November of last year a longtime member of my neighbourhood bird community, the Common Koel (lovingly known for his stealth gliding through the trees), transformed his pleasant warbling into an incessant, high-pitched shrill. Right outside my bedroom window. All of my windows actually. And all day and all night.
Throughout the day and 11pm, 12pm, 1am, 2am, 3am (especially 3am), this is what I hear:

The Koel's mating calls started in November, ran through the month of December, and now here we are at the end of January. That's stamina. It's also crazy making (for insomniacs especially).
Earphones didn't work to cut the noise so drugs (of some sort) were up next. And Nootropics are said to fit the bill. Remember those?
I first tried Melatonin. A mistake. I now know that Melatonin is great for switching timezones but if you are too enthusiastic, you'll start waking up in the early hours. And stay up. My up lasted two weeks plus.
I then dipped into even more Nootropics and found a (hopefully) permanent fix. So if you too are the recipient of the Common Koel's randy call, here's my personal mix:
At around 9pm I quiet my body and mind with Bacopa Extract. Three to four pills does it for me. Around 10-11pm I down 500 mgs of L-Tryptophan. After the L-Tryptophan, sleep comes fast.
Once I got my sleep sorted I went looking for information about the Common Koel in Thailand. My Thai friends all professed a love for the blasted thing (as I once did and will again) but after three months of radically disturbed sleep I was ready to kill. Or at the very least, singe his feathers with one of those super duper lazer pens easily acquired in Thailand.
So there you have it. The proof that I'll never ever make anything but a lousy Buddhist. Because yeah, it's not over 'till it's over and it's clearly not over yet.
Anywaaaaay, in a nutshell, the Common Koel is an oversized member of the Cuckoo family. Brood parasites, the momma Koels turf eggs from the nests of black birds and others, laying their own eggs in place. Once the Koel chicks have been nurtured by the host parents and are ready to fly, the Koel(s) come back and off they go (this last point I'm not 100% sure of).

Thai Poetry: The Common Koel, the Black Crow, and motherhood…
Not ready to give up on knowing more about the Common Koel and Thailand, I found an old Thai lullaby that briefly touches on the Koel's attributes. The poem (with translation and transliteration) is below. As is a YouTube video. Note: the singing style is not to my taste but it has to be someone's. Enjoy.
Except for knowing what type of Thai poem this is (อาขยาน /aa-kà-yaan/ – a narration of sorts) I know little else. I do know that in Thai poetry words are added to make the words flow. Personally, I found that the unnecessary words made translation difficult so only the gist of the poem is below. And yes yes yes, I had to yell, scream, and holler for help.
Overview of the poem: A Common Koel lays an egg in a crow's nest. The crow hatches the egg, taking care of the baby bird as her own. The momma crow feeds the baby and then takes it for an outing along a river. After eating, the crow and the baby fly back, landing on a nearby tree. A hunter spots the birds, bagging the mother crow for dinner. End of story.
The Common Koel …
กาเหว่า เอย
gaa-hăy-wâa oie
leaves an egg for the mother crow to hatch.
ไข่ ไว้ ให้ แม่ กา ฟัก
kài wái hâi mâe gaa fák
The mother crow falls in love (with the chick).
แม่ กา ก็ หลงรัก
mâe gaa gôr lŏng rák
She believes the egg came from her belly.
คิดว่า ลูก ใน อุทร
kít-wâa look nai u-ton
Carries food in her mouth.
คาบ เอา ข้าว มา เผื่อ
kâap ao kâao maa pèua
Carries food to feed (the chick).
ไป คาบ เอา เหยื่อ มา ป้อน
bpai kâap ao yèua maa bpôn
Takes care of the baby in the nest.
ถนอม ไว้ ใน รัง นอน
tà-nŏm wái nai rang non
Works hard getting food.
ซ่อน เหยื่อ มา ให้ กิน
sôn yèua maa hâi gin
The chick's wings are still weak.
ปีก เจ้า ยัง อ่อน คลอ แคล
bpèek jâo yang òn klor kaen
It's not time yet for the chick to fly.
ท้อแท้ จะ สอน บิน
tór-táe jà sŏn bin
Mother takes the chick to look for food.
แม่ กา พาไป กิน
mâe gaa paa-bpai gin
At the mouth of the river …
ที่ ปากน้ำ พระ คงคา
têe bpàak-náam prá kong-kaa
the baby steps on algae …
ตีน เจ้า เหยียบ สาหร่าย
dteen jâo yìap săa-ràai
and uses her mouth to catch fish.
ปาก ก็ ไซ้ หาปลา
bpàak gôr sái hăa-bplaa
Eats shrimp and mantis shrimp.
กิน กุ้ง แล กิน กั้ง
gin gung lae gin gâng
Eats shellfish and horseshoe crab.
กิน หอย กระทั้ง แมงดา
gin hŏi gràtang maeng-daa
After eating they fly to …
กิน แล้วก็ โผ มา
gin láew-gôr pŏh maa
a Jambolan tree.
จับ ที่ ต้นหว้า โพธิ์ทอง
jàp têe dtôn-wâa poh-tong
Yet there is a hunter.
ยัง มี นายพราน
yang mee naai-praan
He's out looking, stalking.
เที่ยว เยี่ยม เยี่ยม มอง มอง
tîeow yîam yîam mong mong
He lifts his rifle.
ยก เอา ปืน ขึ้น ส่อง
yók ao bpeun kêun sòng
Aims at the mother crow.
จ้อง เอา แม่ กาดำ
jông ao mâe gaa dam
He's thinking of boiling one of them.
ตัว หนึ่ง ว่า จะ ต้ม
dtua nèung wâa jà dtôm
The other to make into a salad.
อีก ตัว ว่า จะ ยำ
èek dtua wâa jà yam
Eat the mother crow …
กิน นาง แม่ กาดำ
gin naang mâe gaa-dam
tonight. Sad for mother crow.
ค่ำ วันนี้ อุ แม่ นา
kâm wan-née u mâe naa
There are a few iffy spots in the translation so please don't be shy; go ahead and share corrections in the comments below. Also, as per usual, there's a moral to this lullaby. Do you know what it is?