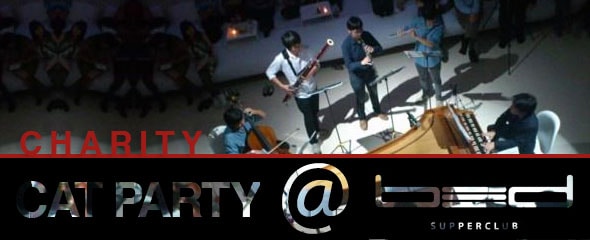 Did you make it to the Charity Cat Party?…
I wasn't in town for @freakingcat's wonderful Charity Cat Party but I didn't miss out. I watched the concert online via ustream.tv.
What talent! A huge round of applause goes to @freakingcat for arranging the party and to the fabulous performers: Trisdee, Somtow, Siam Sinfionetta and Paye.
If you missed the Charity Cat Party you can catch up via Facebook or YouTube:
Facebook: Charity Cat Party video
Facebook: Charity Cat Party photos
YouTube: Cat Charity Party with Trisdee, Somtow, Siam Sinfionetta and Paye
As mentioned in the invite post, donations collected at the Charity Cat Party went to support my favourite all-time Thai charity, the SET Foundation. Also included were the deserving soi dog and cat charity, SCAD Bangkok (website now taken over by smut – go figure).
But if you weren't able to donate at the party, it's not too late. You can still go direct to your charity of choice.
The SET Foundation…
It's no secret that the recent floods in Thailand hit already struggling Thai students hard. So please consider sending a donation to the SET Foundation this holiday. To see how little it takes, read through the itemized list at What does it cost to make the difference?
My Xmas donation went straight to the SET Foundation, as does all revenue from WLT. That's right, it might look like I have paying ads in my sidebar but it isn't technically so.
Benjawan and Chris (Paiboon Publishing), Achim and Busakorn (L-lingo), Jay and Jo (Learn Thai Podcast), all donate direct to the SET Foundation. Readers of WLT donate to the SET Foundation too. And I'm proud they do. Thanks all!
The SET Foundation on WLT…
The SET Foundation: A Season for Giving Back
Inciting Acts of Kindness: The SET Foundation
Feel Like Donating? Give to the SET Foundation Instead
Ho ho ho everyone! Happy holiday and I'll see you next year 🙂