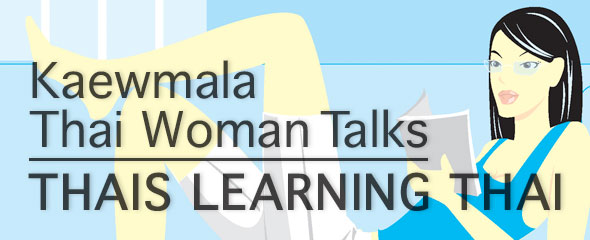 Thais Learning Thai…
This is part 2 of 2 absolutely fabulous posts. If you landed here first, you might want to head over to Part 1: Thais Learning Thai: Kaewmala from Thai Talk.
Part 2: Kaewmala from Thai Talk…
As a native Thai speaker learning Thai, how do you go about it?
Probably in a similar way some native English speakers learn more about English and English-speaking culture, I guess. Since I already speak, read and write Thai at a reasonably high level and not being a linguist, I am not terribly interested in basic Thai grammar (though it doesn't mean I know much about it). I am more interested in what's behind the words and meanings. Like cracking the codes of the Thai psyche in Thai language. Deconstructing Thai culture through language, if you will. Remember I want to know my "Thai cousin" better. I look for clues about my Thai cousin's thoughts and feelings in her language. That's why I have been digging into Thai idioms. You can get glimpses of a culture's psyche inside its words and expressions. Look deep and long enough you might find its heart somewhere.

I also read more Thai-language books – on language, culture, history, politics, sociology – to learn more about how good writers use Thai – and their thoughts, of course. Here are a couple of such books in my library.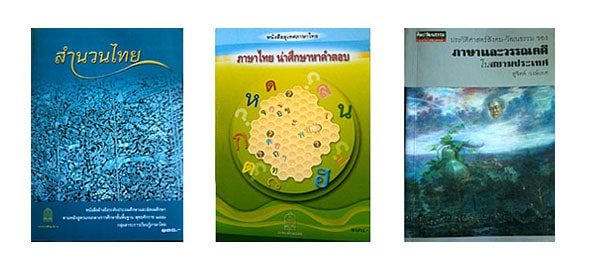 From left to right: "Thai Idioms" by Ministry of Education; "Thai Language: Finding the Answers"
by Ministry of Education; "Language and Literature in Siam" by Suchit Wongthes, Arts & Culture.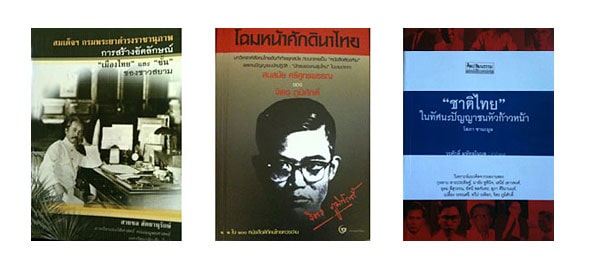 From left to right: "Prince Damrong: Constructing Identity of 'Muang Thai' and 'Class' of the Siamese", by Saichol Sattayanurak, Arts & Culture; "The Face of Thai Feudalism" by Jitr Phoomisak" (1 of 100 must read Thai books); "'Thai Nation' in Perspectives of Progressive Intellectuals" by Sopha Chanamool, Arts & Culture.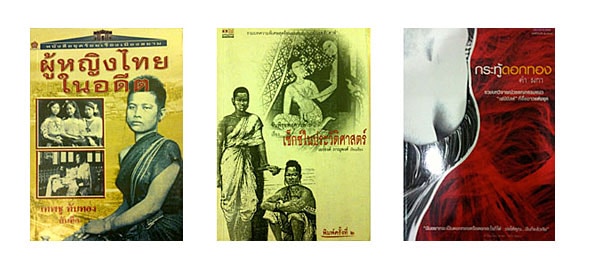 From left to right: "Thai Women from the Past" by Thepchu Thapthong, "Sex in History"
by Ekarong Bhanupongse, "Issues [by a] Golden Flower" by Kham Phaka (pseudonym).
Then I write what I've learned. I wrote my first book that came out of my learning Thai through words. A couple of years ago I started collecting Thai words having anything to do with sex, love, romance, in order to understand Thai sexuality. So the product was "Sex Talk: In Search of Love and Romance." I probably started of writing that book for myself but I am glad that it ended up being something I can also share with others.

For me language and culture are symbiotic. You can't learn one without knowing the other. I've learned from my learning English that the more I read in English, non-fiction and novels, the more I understand both the English language and the English-speaking way of thinking. And my English usage improves with more advanced reading – it still has quite a distance to go, but I enjoy the journey and the expectations that I can always get better at it. I apply this to my learning Thai. I read and ponder and write. My blog is another place where I share my thoughts and the products of my learning, my analysis of idioms, etc.
Who is the main target audience for your blog Thai Woman Talks?
Anyone interested in Thai language, culture, politics, sexuality, or cross-cultural relationship involving a Thai partner, or in hearing what a Thai woman has to say on these issues. Notice I use the singular term, "woman talks", because it's just one woman. I don't claim to be a representative of Thai women, though I believe my views on these issues are shared by at least some of other Thai women.
You read mostly Thai sources, but you write and share your learning in English. Why?
It's a little odd, isn't it? Well, here's the thing. Since I graduated from university at the age of 20 I have never had to use Thai language seriously again. All my studies and work have been done in English ever since to the point where writing in Thai doesn't come naturally to me anymore. It takes me at least twice as long to construct sentences in Thai than in English. So, I try to rectify that, but writing in English for me is still much faster and more natural (in other words, I'm still lazy). Besides, I imagine explaining Thai using English probably gives a different perspective from using Thai.
Where/who do you go to for inspiration?
For the blog I pick it up here and there: interesting current events, a book or article I just read, words stumbled upon, etc. I often have a rendezvous with inspirations in the bathroom. My husband is also supportive in what I do.
There are many books on Thailand written for the western market. Which ones do you trust, and why?
Such books I have read tend to be scholarly. For what it's worth, my most favorite among good academic writers is Thongchai Winichakul, a Thai professor at University of Wisconsin-Madison who wrote Siam Mapped, one of the best history books on Thailand. Political and social analyses by Chris Baker and Pasuk Pongpaichit are usually accessible and insightful. They are the authors of Jungle Book and many books on Thaksin. For books aimed at popular audience, I prefer those by professional authors familiar with Thai language and culture. Christopher G. Moore, author of Heart Talk and the culturally intelligent Vincent Calvino detective series, is on the top of my list in this category. I find books written by many amateur foreign authors not extremely discerning. Not that I have anything against working girls or their besotted farangs, but stories based love affairs gone wrong with Thai bargirls lose their novelty rather quickly. Hopefully Thailand-based novels will diversify over time.
What advice on Thai culture would you give to new arrivals to the country?
Thai culture is unique – like all other cultures. 😉 Needless to say, there's much more to Thai culture than in the TAT ads or what's said on the Internet. Like anywhere else, there are good and bad people, and both pretty and ugly sides of the culture. Newly arriving foreigners often get exaggerated treatments, i.e., extremely well or extremely poorly – so, please don't take your experience in the first days, weeks or months as the indication of what life is really like in Thailand. Be open-minded but don't be a pushover. Be curious. Be cautious but not too suspicious.
What advice would you give to those learning the Thai language?
I'm not a language expert and don't have experience learning Thai as a foreign language. I suspect the way I learned Thai in school wasn't the most practical. Many successful foreign learners have given much better tips than I ever could on your site already. My experience in learning English may be more helpful. (See answer to the last question.)
Is a book on Thailand and the Thai culture in the planning stages?
Yes. I'm always scheming to write something or other but whether or not I'll accomplish it is quite another thing. (Laugh) I have planned to write the second book on sexuality in the Thai "Sex Talk" series. This one will really deserve at least an R rating. But it seems I might get sidetracked and write another book on Thai idioms instead. We'll see. I expect to take fewer work projects next year and have more time for writing books, but consultancy work usually finds its way to me somehow.
You learned English in school. What language learning methods worked well for you?
I was lucky to have had very good English teachers since grade 7 who gave me a strong foundation in grammar, reading and writing. I didn't really set out with any particular strategies to learn English. I just did what I wanted to do. There were a few things I did that in retrospect probably helped. I was not too shy to speak or too lazy to open a dictionary while reading, and when writing a thesaurus was always nearby. I read English-language papers and magazines and, when I could, novels for pleasure.

Early on I felt that it was important to have correct pronunciation, so I listened to English-language radio programs and tapes, and developed an annoying habit of reading and singing out loud. Whitney Houston was my friend – but the enemy of people around me. Greatest Love of All was probably Greatest Pain in the Ear for my poor friends and neighbors. And watching copious amounts of TV in the States likely did a lot to improve my colloquial English.
Why do you use a pseudonym?
I also write in my professional work. There are many publications with my real name on them and I simply don't want to mix the two, especially given my sometimes strong social and political views.
Thanks for the interview, Cat. ☺
And thank you for taking the time, Kaewmala 🙂
Sex Talk, Thai Woman Talks, Thai Talk, Thai Idioms and Lanna talk…
Kaewmala (pseudonym) is the author of Sex Talk: In Search of Love and Romance (Bangkok: HLP, 2009).
Blog: Thai Woman Talks – Language, Politics & Love
Twitter: @Thai_Talk (on Thai language, culture & politics);
@thai_idioms (Thai idiom a day);
@lanna_talk (Northern Thai vocabulary)