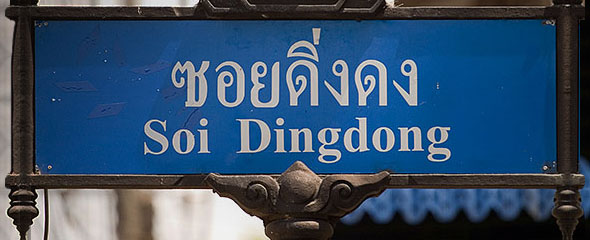 Phil's FREE Thai language tutorials…
Always on the lookout for Thai language resources, months back I found Phil's Thailand Travel Guide and got caught up in his Thai language learning experiences.
As I've mentioned previously, there are many ways to learn to read Thai script. Some learners choose to hire teachers, some join a class situation, and others strike out on their own.
Phil (for the most part) struck out on his own, and he wants to take us with him.
After several exchanges via email, we agreed to agree on the basics: Thai language courses with transliteration are the bane of learning to read Thai, and living in Thailand without learning to read Thai is a wasted opportunity.
I'm a 48 year-old Brit who has been living in Songkhla province since the end of 2003 after getting fed up with living in the rat race that is the Western world. I have been teaching in Thailand since mid-2004.
I arrived in Thailand with zero knowledge of Thai and the first thing I did was sign myself up for a 20 hour Thai conversation course. I soon realised that the transliteration system used in phrase books and teaching material was more of a hindrance than a help so I set about teaching myself to read Thai. It's the only way.
I have taught myself but, of course, I have asked Thai friends hundreds of questions over the years regarding things that I didn't understand. Initially it is difficult but with a little knowledge it gets a lot easier and being able to read some basic Thai makes living in Thailand so much better.
Phil's documented experiences are especially useful as there just aren't that many expats detailing what to expect. And when you are struggling with a language as foreign as Thai, every bit helps.
Learn to read the Thai language…
Sometimes local language teachers don't understand the difficulties foreigners have with learning their language. I found that especially true when learning French in France, as patience with what the French believed to be minor points was not their strong point.
There are lots of books aimed at English learners of Thai but the vast majority are hopeless. The transliteration used is so bad that if you try to pronounce Thai words as they suggest, you will not be understood in Thailand in a million years.
I agree with Phil! Trying to learn Thai via transliteration results in a dog's breakfast. And with this in mind, Phil started compiling substantial tutorials at Learn to read Thai.
These tutorials are aimed at people who currently have zero knowledge of written Thai but who wish to learn. The objective is to teach people who have no ability now how to read signs and menus, etc. This is not intended for intermediate or advanced readers of Thai; and reading books and newspapers, etc., is beyond the scope of this exercise.
Along with learning the Thai alphabet, you'll learn why กระบี, often transliterated as Krabi, is pronounced gruh-bee, not crabby. And why ตรัง, spelt Trang on maps and street signs, is actually pronounced dtrung. And ภูเก็ต, spelt Phuket, is really closer to poo-get.
The lessons get you reading basic Thai right away, and by Tutorial 6 you are on a roll.
In Tutorial 8 you'll learn why Thais say Orientan instead of Oriental and Centran instead of Central. It's that dreadful monkey!
It all rolls smoothly along, gathering vowels, consonants, tone marks and more.
And as Phil is still writing the tutorials (not too shabby, he's up to 23), I won't write about the more just yet.
Note: The photography for the Soi Ding Dong sign is all thanks to Phil.
Phil's recommended Thai reading resources…
Other Thai reading resources…
Thai-English Readers with Mp3s
Reading Thai is Fun, by James Neal