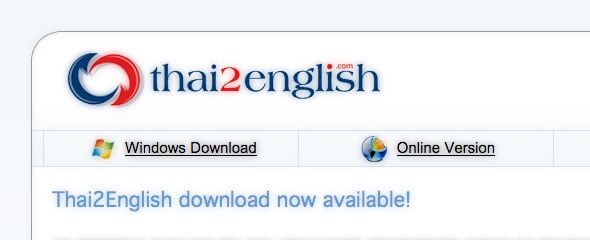 What we've all been waiting for…
Thai2English is designed for anyone interested in translating, reading, understanding, speaking, learning or typing in Thai, from beginners to experienced learners.
And if you like using thai2english.com online (as I do), you are going to just LOVE having it available on your computer.
A taste of the Thai2english dictionary download…
Dictionary: Thai to English, English to Thai dictionary with over 110,000 Thai entries and 90,000 English. Sample sentences in both Thai and English.
Search: Search in English, Thai script, or any form of transliterated Thai. Wildcard or regular expression searches supported.
Transliteration: Converts Thai script to romanised transliteration (including tone marks). Choice of transliteration styles.
Translation: Recognises common sentence structures. Gives much more than individual word-by-word translation.
Typing in Thai: Converts transliterated Thai to Thai script without the need of a Thai keyboard.
Thai Grammar and Reference: Explanations and examples of Thai grammar.
Reading Thai: Step-by-step guide to reading Thai script and tone rules.
Thai-English Dictionary: Download
Thanks Mike!