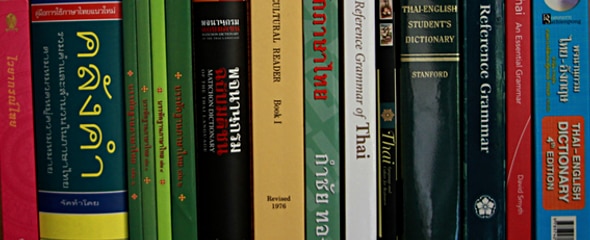 I've long craved a list of Thai resources that focus on Thai-Thai and Thai-English. To explain, Thai-Thai is Thai only and Thai-English is Thai translated into English (not English translated to Thai).
Traditionally, most courses for the English market are created from popular lists of words and phrases in English that are then translated into other languages. It saves a lot of time and money for those making the courses, but, there's a downside. If care isn't taken, this method can generate awkward sounding phrases and lacks the soul of the language (words and phrases unique to that language). It can also create what is known as 'Faranged Thai' (Thai with English sentence structures).
But I'm not saying that Thai-Thai materials always trump Thai-English (or even English-Thai). Paraphrasing Chris Pirazzi:
Books about English grammar written in English for English natives are full of explanations that assume that the reader already has the instincts of a native English speaker built-in. Like the English books for English natives, Thai books would likely be full of facts that are very interesting and surprising to Thais who already have the native instincts of Thai. But they weren't designed to focus on those aspects of Thai that are difficult for non-Thai-natives to grasp.
Soooo … with the help of advanced Thai learners – thanks guys! – I compiled a list of Thai study materials that are either Thai only (Thai-Thai) or have been translated from Thai to English (Thai-English).
Ta da! Thai-Thai & Thai-English Study Resources.
As you can see, the materials are meant for those who want the complete package for learning Thai: Dictionaries, grammar books, full courses, reading and writing courses, pronunciation, typing resources, and even which Thai fonts to use.
Disclaimer: Due to the huge amount of resources available for learning Thai I didn't have time to put everything through the vetting process. With the time available, only the resources the team felt they knew enough about were discussed. I assure you that more will be added later. Eventually. And if you have a resource that follows the criteria just contact me and I'll have it checked out.