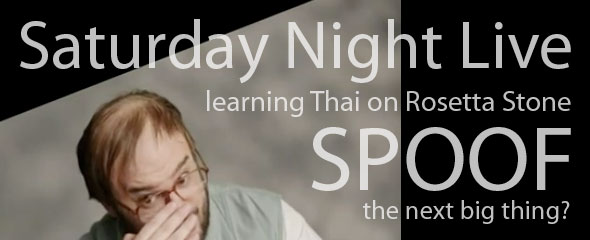 Learning Thai with Rosetta Stone spoof…
Recently in the news Thais protested about Buddha artwork on public toilets in the Netherlands. Result? The Dutch apologised for the Buddha toilet images and promised to take them down.
Shortly after that, this IKEA ad offended Transgenders in Thailand. I'm still waiting to see how that one turns out.
Then, only this morning, I received a lighthearted email from Benjawan Becker of Paiboon Publishing. In it she shared a YouTube vidoe featuring a Saturday Night Live spoof on learning Thai with Rossetta Stone.
EDIT: The video keeps getting taken off YouTube and put back up again. If it doesn't show up below, it remains on nbc.com: Rosetta Stone. From YouTube sometimes I get a, "We're sorry, but the clip you selected isn't available from your location. Please select another clip". It's also on Hulu but again, "Sorry, currently our video library can only be watched from within the United States".
As I'm doing a major check to make sure all videos on my site are still valid, here you go, once again.
For those who aren't quite sure what a spoof is, here you go:
Dictionary.com: spoof [spoof] noun
1. a mocking imitation of someone or something, usually light and good-humored; lampoon or parody: The show was a spoof of college life.
The joke focuses on male tourists preparing for trips to Thailand. But will this spoof on learning Thai become the focus of the next Thai protest?
PLEASE NOTE: snarly comments will be deleted.