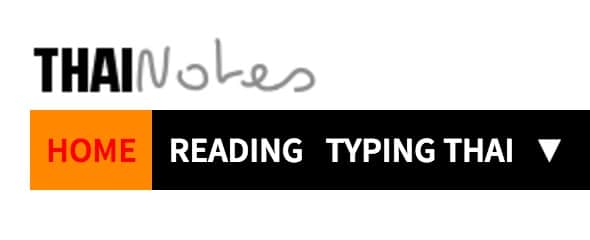 A website growing in popularity with the Thai community for its online Thai Typing Trainer is Mike's Thai-Notes. Mike is presently in the process of adding yet another free course – one that teaches you how to read Thai.
Thai-Notes is a website with a variety of applications to people learning Thai. Its latest addition is a reading course. This course takes the beginner from reading the first few characters and vowels, in small, easy steps, to a comprehensive mastery of all the rules of reading Thai with its many complexities and irregularities. Provided within each lesson are lots of opportunities for practice through simple, interactive games.

New materials introduced in a logical way, based upon frequency, makes sure that beginners get maximum use out of what they learn.

The course also includes instruction and worksheets for those who want to learn to write Thai characters and words.

Currently there are 12 lessons available online (out of a planned 70). Until the course is complete new lessons will be added.

The course is available at Thai-Notes: Reading Index
Also available on Thai-Notes…
Thai Typing Resources:
Thai Typing Trainer
Thai Steady Typer
Thai Typing Game
Thai Dictionaries:
Thai-English/English-Thai Dictionary
Thai Classifier Dictionary
Thai Flashcards:
Flashcard Game
Flashcard Editor
Miscellaneous tools for learning Thai:
IPA Typing Tool
Thai Typing Tool
Note: As this is a project in the making, please contact Mike if you have suggestions or feedback.