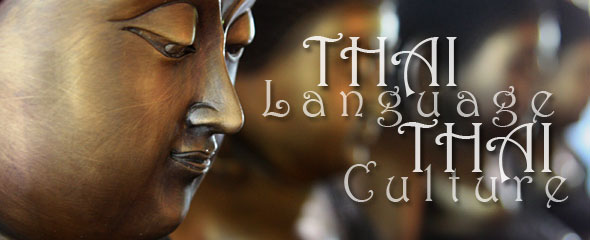 Rosetta Stone* Methodology…
*After the stone and not the expensive software
In her interviews of Thai speakers, Catherine likes to ask if we have ever had an "Ah ha" moment in our Thai studies. An "Ah ha" moment is sort of a Zen "satori" experience where we become enlightened, although sometimes only for a short while, about "what's what". Well, I recently had one of those.
My latest English textbook had just been published and as I was looking through it I suddenly realized that (Ah ha) these books are really set up in a way that a Thai studying English and a person studying Thai could both benefit from them. I was using the bilingual format where I presented written material in both Thai and English. The object is for the student to understand the section of reading or listening, before attempting to decipher it, by reading the section in their native language first. Later when they begin reading in the target language, the students can focus on fluency instead of translation.
The French scholar Jean-François Champollion did that with the real Rosetta Stone. The Rosetta Stone, discovered by Napoleon's army during their invasion of Egypt, had the same story written in Greek, which everyone knew, modern Egyptian, which a few people knew, and Egyptian hieroglyphics, which no one knew at the time. By knowing one language he was able to decipher the other and because of this work, today ancient Egyptian writing is understandable to us.
Likewise, we can do a similar thing with Thai and English. Here is a short excerpt from an intro to a lesson on Taking a Complaint from Professional Hotel English for Thailand, Silkworm Books.
Taking A Complaint:
Mr. Larson has just arrived at his room at the Top Thai Hotel. He has a problem with his room.
การต่อว่า:
Mr. Larson เพิ่งเข้าห้องพักที่โรงแรม Top Thai เขามีปัญหาเรื่องห้อง
As you can see, both the English student and the Thai student can go about tackling this lesson in the same manner. Read the section in your language first, understand it, then look at the target language and work from there. I'll bet that you know that "has just arrived" = "เพิ่งเข้า". As it turns out, in producing materials to help Thais learn English, I had been creating something that is exactly what I was looking for to help me further my own studies of Thai.
Many of us started our Thai studies with books like J. Marvin Brown's AUA Books, great for tone recognition and production, and Benjawan Becker's Thai for Beginners, a very good intro to the study of the Thai language. But at some point you realize the drawbacks of using phonetic transcriptions, you get tired of being illiterate, and you know that it is time to study the Thai alphabet and reading. But sometimes finding materials for our specific language level, especially for reading, can be difficult.
The materials I am suggesting here are for those who have taken the leap, gotten serious about studying Thai, have learned the Thai alphabet and some basic vocabulary, and are now beginning to read this outlandishly difficult language. Although all the materials I am suggesting have been written with the Thai learner of English in mind, both students of English and students of Thai can benefit from them. Since they are written for the Thai student of English there are no phonetic transcriptions, which is probably a good thing since it will force you to read real Thai. I think it is always best when studying a foreign language to have a teacher, or at least someone whom you can use as a pronunciation and language flow example. It would be best if you had a teacher helping you with these reading materials also.
My professional colleagues in the teaching and applied linguistics field love to give things names so let's call the use of these bilingual materials the "Rosetta Stone Methodology" where knowing one of the languages is the key to learning the other.
Beginning Students of Thai…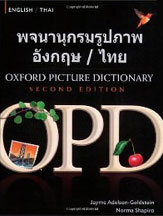 The Oxford Picture Dictionary, Oxford University Press, has a monolingual edition and 13 bilingual editions, including one in Thai. It is written for the Thai student of English but is just as good for the student of the Thai language since all the words are written in English, in Thai, and are accompanied by a really clear illustration. It introduces you to 4,000 objects, verbs, phrases, and activities. The words and activities are divided into sections all dealing with individual topics. There are sections like Meeting and Greeting, A Classroom, Weather, A Kitchen, Doing the Laundry, The Body, The Workplace, and lots more.
If you learn all the Thai words in this dictionary you'll be able to converse on, as well as read about, just about any topic.
Although illustrated, this is not a children's dictionary. This is a serious reference work. There is a special children's edition though and if you are helping a young child to become bilingual this would be a great asset.
The Oxford Picture Dictionary also comes with added features such as CDs and an activity book, but these are mostly for the English learner. It sells for about $15 on Amazon and can be purchased in Thailand.
Intermediate Students of Thai…
There is a group of bilingual books to help Thai students to learn English that are inexpensive and are available throughout the country. They are called สองภาษา sǒng paa-sǎa "Two Language" Books or ไทย-อังกฤษ Thai-English Books. They are written for various levels, and range from just beginning reading, alphabet books (กุ๊กไก่ gúk gài), to Aesop's Fables (อีสป ee sop) to quite advanced fairy tales, and non-fiction. Often, the places you will find them are on the discount book tables in most shopping malls. I just bought a complete series of Hans Christian Andersen Fairy Tales for 29 baht each. I also bought a series of books, each one about a different group of animals, Fish, reptiles, Amphibians, etc.
You might think that these books are for children, and you might be right, except that in some of the books the vocabulary that you will be learning can be quite advanced. Here are a few examples of vocabulary words new to me in the books that I just bought.
Low intermediate level, animal books:
เต่าคืออะไร /dtào keu à~rai/ – What is a Turtle?
กระดอง /grà~dong/ – the shell of a turtle or a crab, also the bone of a cuttlefish
จำพวก /jam-pûak/ – group, category (family of animals)
แหล่งที่อยู่อาศัย /làeng têe-yòo aa-sǎI/ – habitat
High intermediate level – Hans Christian Andersen's Fairytales:
ไนติงเกล – The Nightingale
พสกนิกร /pá-sòk-gà-ní-gon/ – inhabitants, subjects of the king
วิจิตร /wí-jìt/ – exquisite, fine
ไพเราะ /pai-rór/ – sweet (sounding)
ยโส /yá-sǒh/ – arrogant
As you can see, these are not exactly children's words. Whichever level you choose, most of us Thai learners will learn lots of new and useful vocabulary.
Advanced students of Thai…
The I Get English magazine is great for Thais studying English. There are bilingual articles on travel (London), history (Ancient Greece), and biography (Steven Spielberg). There are simple bilingual dialogs of everyday activities (Ordering a hamburger), translated dialogs from the latest movies (The Hurt Locker), and grammar discussions (adverbs). All of these are really helpful for the Thai studying English. And, are a treasure house of good stuff for someone trying to learn to read Thai.
Each issue costs 50 baht and can be found at most good news stands, although they sell out quickly. Do a Google search and you can find sites selling all the back issues (28 at this writing). It would be a good library to have.
How to use these materials…
These steps work with any level of bilingual/Rosetta Stone Methodology type material, from individual words, to sentences, to paragraphs. Here is what I do.
I read the English first. Now I already know what's going on.
Then I make an attempt at reading the Thai, scanning.
I try to match up the Thai words I don't know with the English words.
If I can't figure them out I get out the handy dictionary.
After learning all the new vocabulary, I reread the section until I understand it all, which should be pretty easy since I have the English reference right there.
After I have a good grasp of the reading section I will read it aloud.
I continue reading aloud until I feel that the words and sentences flow freely. Even if you don't have someone listening and correcting you, which is always a good idea, you will get a feeling if you are getting the tones and the cadence right or not. I am not sure why that is so but I think that "magic" has something to do with it.
Every so often I come back to a book or a section that I have finished and do it all again. Practice really does make a difference.
Hugh Leong
Retire 2 Thailand
Retire 2 Thailand: Blog
eBooks in Thailand