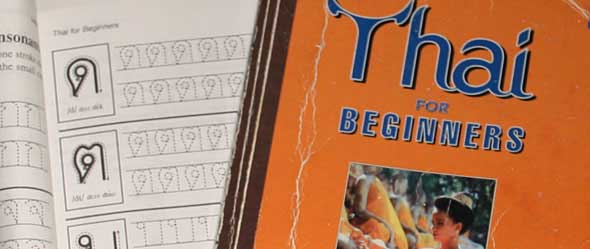 Methods. Stops and Starts…
Moving to the Island of Borneo in '94, Thailand became a yearly destination. After falling in love with the Thai countryside, the Thai people, and the hottest food in the world, eventually building a house in Chang mai was a real possibility.
With this in mind (but knowing I had scads of time), I purchased Benjawan Poomsan Becker's Thai For Beginners (book and cassettes).
As you can see from the photo above, my copy is well-worn. But truthfully, it's from scraping in and out of luggage, backpacks and carry-ons. Not from actual use.
Today when I look at Thai For Beginners I see a well-grounded book. But back then I'd tuck up in a Thai hotel room, cassette player by my side and TFB in hand, then freeze about page 27 with 'The Thai Writing System'.
Thai uses an alphabet of 44 consonants, 32 vowels, four tone marks and various other symbols for punctuation, numbers, etc.
The longer you rely on transliteration, the more time you'll waste reinforcing a writing system that will be virtually useless in Thailand.
At some point between discovering Thailand and moving here (nine years), I purchased Survival Thai by Dr. Michael Gruneberg. Word association is a proven method, but he neglected to mention an aspect of learning the Thai language. The five tones. And if you know anything about the Thai language, the avoidance of learning tones can get you into blush-inducing communication difficulties.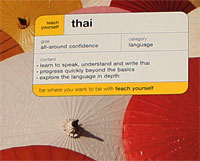 Another course I ordered before the move (bless amazon) was Teach Yourself Thai, by David Smyth. As my packing was in high gear, 'Teach Yourself Thai' was shoved into a crate soon after being torn out of the box.
Landing in Bangkok, I spent the first couple of months unpacking and walking around dazed. Culture shock was expected as a been there, done that, so the time was allotted for.
After the breather, I checked the expat forums for contacts, then hired a Thai teacher to teach in my home. The teacher was lovely. The vocabulary wonderful. The transliteration in the prepared lessons, not so much.
Frustrated at fighting through what seemed to me forgettable transliteration sans Thai script (yes, it was a Becker / reading Thai head-desk), I recorded the weekly lessons (words that bounce around my head even still).
When not recording, the class pretty much consisted of talking about Thailand, Bangkok, relatives and relationships. In English. Meaning, ten thousand baht later, I came away with a handful of disjointed Thai words and a brief introduction to living in Thailand. As seen through Issan eyes.
It might seem expensive to some, but the chats helped ease me into my new home. And I guess that's the main reason I didn't force the class back in line. You see, as an experienced expat I know a mourning period is needed after an international move. Mourning for lost friends, a lost lifestyle, and of course, the lost confidence of knowing where everything is. By taking a brief Thai class with a entertaining local lass, I slid into Thailand instead of the alternative.
Making my way to Pantip Plaza, I grabbed a copy of Rosetta Stone Thai Explorer, followed by Rosetta Stone Thai Level 1. Recognising similar photos from my Rosetta Stone French course, there were no surprises there. Rosetta Stone claims their program 'unlocks your innate language learning ability' so I will give it a decent try. Later.
My next attempt was in an actual classroom setting with Cracking Thai Fundamentals, taught by the entertaining Stuart Jay Raj. An impressive linguist, Stuart reads and writes 13 modern languages and has a close relationship with 15 others.
The Cracking Thai Fundamentals workshop does not promise to have you speaking Thai after 8 lessons. What the course does do is strip away the mystery of the language and provide you with skills and knowledge that will facilitate and even accelerate any further study in the language.
Cracking Thai Fundamentals is a linguists playground. Peppered with storytelling, it's a course heavy in the minute details of language learning.
Stuart is now teaching Cracking Thai Fundamentals and more at stujay.com. And if you are lucky enough to take one of Stuart's courses, you will also learn a multitude of useful tricks for getting around in the Thai language.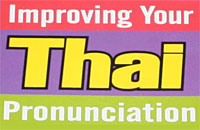 And along with Improving Your Thai Pronunciation by Benjawan Poomsan Becker, 'Cracking Thai Fundamentals' is the reason I no longer fear the dreaded five tones. As much.
Soon after finishing the course, I moved further into Bangkok. Taking a different tack, I signed up at a nearby Thai language school for one-on-one lessons. At this point I was travelling a great deal and renovating a condo, so classes were once a month to once every three months. Obviously, with my tough schedule, learning Thai was not a priority. An additional strike against, I neglected to record the lessons.
During class we tried out Spoken Thai by Plung Phloyphrom, and Speaking Thai (The Fastest Way to Speak Thai) by Dhirapol Polsawasdi and Chanchai Boonhao. But with six lessons spread wide over a year (and nothing recorded for the in-between times), there wasn't much of a chance of getting ahead in Thai.
Towards the end of the course I requested to be switched off the transliteration method and over to learning the Thai alphabet. Again, it was difficult going. To assist, my first flash card purchase was the full colour set used in Thai schools. While attractively designed, for me the lack of a translation limited their ease of use.
My second flash card purchase was an improvement. Thai Alphabet Flashcards (buythaibooks.com – suspended for now) are from a top Thai language learning website, Learning Thai (offline for now). One side has Thai, flipping the card over shows an explanation in English. The cards are handy for getting acquainted with the Thai alphabet.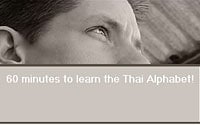 My continued search finally led me to the secret to effortlessly learning the Thai alphabet. And although it took me a lot longer than stated, 60 Minutes to Learn the Thai Alphabet is amazing.
Relying on simple images, they've devised a visual memory system to help you learn the sounds, shapes, class and location of the Thai letters. It works.
So where Survival Thai used word association, 60 Minutes to Learn the Thai Alphabet uses visual association. Bingo.
An understatement, I'm not a quick learner when it comes to languages. But by using the visual association method, it took me around 10 minutes to learn how to read Thai numbers. Due to the assortment of Thai rules, learning the alphabet took me a lot longer. A whole lot longer than 60 minutes. But no matter, I was hooked. And I could now make out Thai words while running around Bangkok.
And this is one of the reasons I decided to embark on this website. I know there has to be an easier way to learn Thai. I just have to find it. Or, design a program to suit how I learn.
No. I'm not ignoring the amount of hard work it will take to learn a language as difficult as Thai. I'm just suggesting that it doesn't have to be mind-numbingly dull or painful.
So I guess I need to source out how…