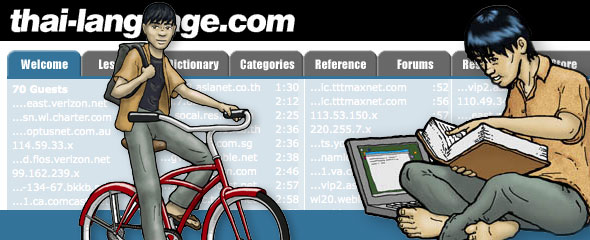 Thai language resource: thai-language.com…
You all know Glenn Slayden from an earlier interview: Interviewing Successful Thai Language Learners: Glenn Slayden. Today I'm writing a brief overview of his site, thai-language.com.
Mission Statement: The mission of thai-language.com is to offer English speakers the highest-quality non-commercial Thai language resource on the web. Our discussion forums, dictionary, and learning materials support a friendly world-wide community of folks who are interested in Thai language, culture, residency and travel.
Getting around thai-language.com…
Glen put a lot of thought into creating a user-friendly site, adding small details to improve the experience. It helps that he is a programmer to boot.
Site Settings: If this is your first time on thai-language.com, go straight to this section. This is where you adjust the sound files and transliteration styles to suit your personal preferences. There are other options, so be sure to poke around.
Underlining external links is one of the industry standards for web navigation, and Glen offers no different here. All through the site you'll also find text underlined with dots, but these keep you on the site. Clicking on the dotted text takes you to a Glossary of Thai Language Terms for the word or phrase in question. When you scroll over the dotted text with your mouse, information from the glossary gracefully pops up.
You'll also notice that when you mouse over Thai script, sections of yellow appear. Click on a section (for instance, ราช) and you will be taken to the dictionary meaning of that word. Additionally, when you mouse over a yellow section, a translation pops up. If you click on the purple arrow at the end of the Thai script, you go to the dictionary meaning for the whole section.
What happens when you click on the sound icon depends on how you've adjusted the settings. I chose to stay in the same window but my computer is not playing along.
The essence of thai-language.com…
Reference
This section covers the basics of the Thai language: Thai alphabet; spelling, pronunciation & tones; grammar; writing & typing; geographical reference; bibliography and citations.
Lessons
After you familiarize yourself with the basics of the Thai language, head to the lessons on offer: basic conversation, reading & writing, dialogs, reading exercises, and quizzes.
Message Forums
When you have a question about learning Thai, this is where you place your queries. Members on this forum are quality, so be assured that your questions will be answered in kind.
Dictionary
There are two online Thai dictionaries I frequent. Thai2English.com and this one. For me, the strength of this dictionary is its Reverse Phonemic Transcription. Drop in Thai transliteration and Thai script comes out the other end. Very handy.
Category Root
If you need to search for a word or phrase by subject, then this is the place for you. I didn't find anything for all things maids, but Glen did have a page for haggling.
Online Store:
When I first started to buy books and courses on learning Thai, this is where I often ended up. Glen is also one of the few people mentioning the excellent resource, The What-You-See-Is-What-You-Say Thai Phrase Handbook. And if you read 'highly recommended', 'a must-have', 'essential', 'comprehensive', and 'de facto standard reference for most serious students' in reference to any of the materials, believe it.
Microsoft Bing
From an announcement in the forum, I see that Glen has been working on the Thai side of Bing. Bing is a competitor to Google Translate, so a post comparing the two is definitely in my future.
I barely touched on the working of thai-language.com, so please browse around to see for yourself.