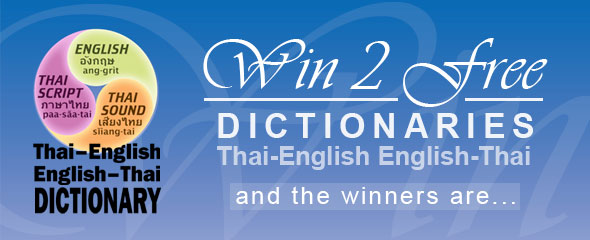 The Thai-English English-Thai Software Dictionary draw……
Chris and Benjawan's Thai-English English-Thai Software Dictionary is such a fabulous product to give away. And readers at WLT were gifted with two.
To keep the draw manageable, I followed the simple method in Teach Yourself Thai Complete. Both of them.
Amy Praphantanathorn (Expat Women in Thailand) folded numbered papers, put them into a bowl, and then asked her son to select two winners. Thanks Aidan 🙂
This morning Talen (Thailand Land of Smiles) checked the numbers in Amy and Aidan's photo against the list I sent him last night, and then announced the winners in the comments of the original post: Win a FREE Thai-English English-Thai Software Dictionary.

Thai bloggers and language learners…
Amy and Talen were a good choice to put in charge of this draw because both are learning the Thai language their own way. They are also guest writers at WLT.
Amy:
Expat Women in Thailand (no longer online)
Bio: Author of the extremely useful ebook: The Expat Women's Guide to Living in Thailand.
Amy is an American married to Thai translator. She has appeared on a Thai language video for Benjawan (I'll leave you to guess which one) and gets an additional dose of Thai alongside of her young son, Aiden. Next year (or the next) will find Amy and her family back in Bangkok. And even though I'm a hermit, I'm looking forward to having Amy close by (trying to avoid boring too many bloggers in the same decade, Amy is one of the few bloggers I've met in person).
Amy's guest post: Learning Thai with Thai Husband and Child.
Talen:
Thailand Land of Smiles (no longer online) | twitter: @landofsmiles
Bio: Top blogger for the quirks that are Thailand.
Talen recently moved to Pattaya, where he's concentrating on learning Thai. Talen's relocation to Thailand is exciting because he's now blogging about his Thai language studies. Exciting again is the still unused water gun I bought this May in the hopes of a rollicking good Songkran dousing… Talen's, not mine.
Talen's guest post: Review: Thai Language Schools in Pattaya.
The winners of the Thai-English English-Thai Software Dictionaries…
The winners are… Todd Daniels and Alok Singh. Congrats! If you contact me either via email, my contact page, or in the comments, I'll send the official bits.
As previously mentioned, I will be giving away more free products in the future: learning Thai books, Thai courses, iPhone apps, etc.
Again, a thanks goes to Chris and Benjawan for creating such a wonderful product and gifting us with 2, Amy and Aiden and Talen for making sure the draw was aboveboard, and everyone who left comments in the post. Ta!