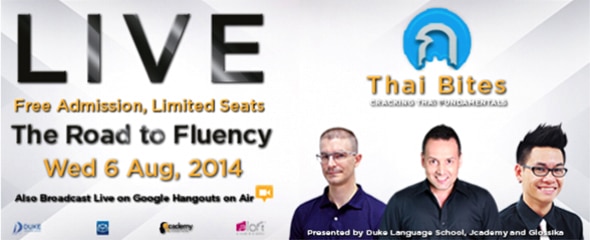 Thai Bites Live Event: Road to Fluency…
On the Sixth of August, Stuart Jay Raj from Jcademy, along with Arthit Juyaso (Duke Language School) and Mike Campbell (Glossika Language Training), will hold a Thai Bites Live Event at the Aloft Hotel, Sukhumvit Soi 11, Bangkok.
Admission and drinks are free – reserve early as there are only 80 seats available.
To reserve a seat: Jcademy Facebook
If you are looking a good way to learn Thai online, check out ThaiPod101. Although their courses are not free, they are cheap, effective, and can quickly teach you conversational Thai. All ExpatDen readers get a 25% discount using this link.
Please click 'attending' via facebook. You will then be asked to re-confirm via email with the number of required reserved seats. Mail enquiries and bookings to [email protected].
The event will be broadcast live on Google Hangouts on Air. Online viewers will have a chance to join the Question & Answer session with the speakers.
Event Lineup:
Arthit Juyaso (Duke Language School): Why do I still Speak Like a Farang?
Stuart Jay Raj (Jcademy): Six months to Fluency – Paul Garrigan's Story
Mike Campbell (Glossika): Building Fluency through GMS and GSR methods