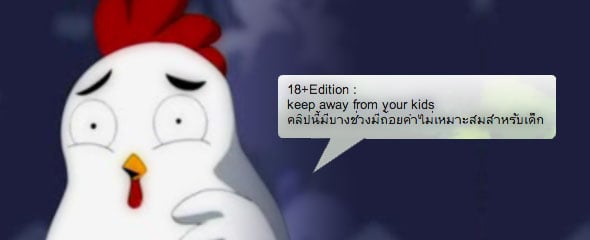 History of the Thai Alphabet Cartoon…

Working as an animator at Idiom Co.,Ltd., Pairach became friends with Prapaporn Gonchouratana, an administrator of the company. In one of their many chats, Prapaporn talked about a story idea she had. Problem was, she didn't know how to make it so.
Pairach did. Taking a rough outline that included the Thai Alphabet and a chicken, Pairach used his lively sense of humour to create a script, story board and animation for the saucy video now known on YouTube as the Thai Alphabet Cartoon ( ก เอ๋ย ก ไก่ ). Later came the toned down commercial version (as a money-maker, it's a given the commercial version can't be posted here).
If you are looking for a good resource to learn Thai online, check out Learn Thai from a White Guy. Upon entering your email, you'll get five free lessons to help you start learning to read Thai.
Attention: เนื้อ หา ไม่ เหมาะ สม สำหรับ เด็ก content not suitable for children.
Warning: This cartoon includes words you will hear around Thailand, but not all are used in every social setting. Some words are considered impolite under certain circumstances, but polite with close friends. If you are sensitive, please skip the cartoon.
Tips: If you find the Thai script too small to read, adjust your browser by clicking on Command + to enlarge (Mac) and Control + (PC). Using the – key in place of the + takes it back down. To find out the translation for a word or sentence, paste it into thai2english.com.
The letters in the Thai alphabet, with their corresponding transliteration and translation, are in bold…
Characters making an appearance this round: ข.ไข่ (eggs), ฃ.ฃวด (bottle), ค.ควาย (buffalo) and a ก.ไก่ (chicken).
The Thai Alphabet Cartoon begins…
Thai Alphabet Cartoon translated and transliterated…

A huge thanks goes to… the talented Khun Pairach, who graciously responded to my requests for permission, information and graphics. Prapaporn and Idiom Co.,Ltd, who were instrumental in making this happen. The sweet Khun Jessi Cotterill, who helped with the translations, cut apart the sound files (bless her), and answered a scattered array of questions via email and im. My long suffering Thai teacher Khun Phairoa, who explained each and every sentence so that we could work with the nuances. Khun Niwat and Khun Belle, who painstakingly transcribed the entire cartoon. thai2english.com for their wonderful resource. And my buddy Khun Lynn, who put up with my antics throughout.
Next up is Thai Alphabet Cartoon: Part Two