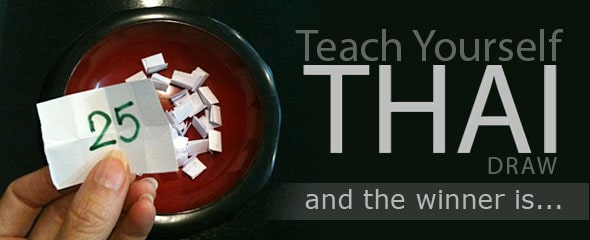 The Teach Yourself Thai Complete draw…
Running a draw can be loads of work, so I aimed to keep this one simple. I went to two fabulous bloggers in the Thai language community, Kaewmala (Thai Women Talks) and Ajarn Pasa (Tweet Yourself Thai) and asked for help.
Kaewmala threw numbers into a beautifully coloured bowl, stirred them around, selected one, and then sent me the winning number. She also sent me the beautiful photos you see here. Ajarn Pasa (Hamish Chalmers) then posted the name that matched the winning number in the comments.

Being able to give away a fine product such as Teach Yourself Thai Complete has been great fun. An added plus: Visitors to WLT have come out of lurking mode to introduce themselves in the comments, and tips were passed back and forth.
Thai twitterers and tweets…
I wanted to take this opportunity to point you to not just two fabulous Thai bloggers, but their twitters (tweets?) as well.
Twitter: @AjarnPasa
Bio: Short, timely, situation-based lessons in Thai for the intermediate learner. Read the blog at www.tweetyourselfthai.wordpress.com
AjarnPasa tweets interesting Thai vocabulary and phrases, then goes into the Thai in detail on his blog. Often he will pick timely subjects on Thailand to explain (soooo needed). In real life, AjarnPasa is Hamish Chalmers and you can read his interview on WLT here: Successful Thai Language Learner: Hamish Chalmers.
Twitter: @Thai_Talk
Bio: Thai woman writer, egghead-hired gun, incorrigible teaser and provocateur of Thai language, culture & politics.
Kaewmala digs deep into the Thai language to bring us tweets to twist our Thai imaginations. Who she is in real life has not yet been revealed (and perhaps never will) but I'll be interviewing Kaewmala soon on WLT in the new Thais Learning Thai series (and you can better bet I'll try to wiggle out as much as I can). Kaewmala is also the author of the enlightening Thai Sex Talk, reviewed on WLT here: Thai Sex Talk for St Valentine's Day.
The winner of Teach Yourself Thai Complete…
If you've kept up with the comments of Complete Thai: David Smyth Updates Teach Yourself Thai, you will already know the winner. If you are coming to this post first, then the winner is…. drumroll…. Peggy.
Congrats Peggy! Well done 🙂 If you send your address via my contact page I will ship your still plastic wrapped box of Teach Yourself Thai Complete asap.
Since this draw went off with ease, there will be many more in the future. I've received a number of learning Thai books, courses and such, and my condo will only hold so much. Something like that.
So a special THANKS! from me goes to Kaewmala, AjarnPasa, David Smyth and the team at TYT, and everyone who left comments in the post. Ta!