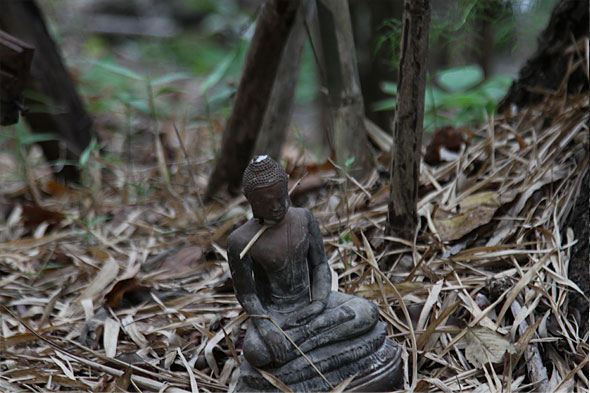 Loving the sounds of Thailand…
For the past four days I've been driving in and around the freezing Thai countryside as far as Khon Kaen and then back to the noisy city of Bangkok again. After leaving skyscrapers behind I drifted past wickedly green rice fields to mist covered mountain tops to dry hillsides creaking with bamboo.
For three nights I slept on either boards or lumps camouflaged as beds, waking up each morning to pains deep in my bones. Drugs R Us…
Along with a gazillion squat toilets and spirit houses I photographed Khmer ruins, ancient burials, dinosaur bones and communist hideouts. Oh, and I found some paraphernalia hiding in the leaves! But more on that stuff later…
I also took videos of the peace and quiet of the Thai countryside. Below are two.
The critters making all that racket are called cicada (or is it cicadas?) a known delicacy of the region. I've located two Thai spellings, จักจั่น and จั๊กจั่น but as Talking Thai Dictionary (reviewed here) has จักจั่น /ják-ga-jàn/, I'll go with that one. You?