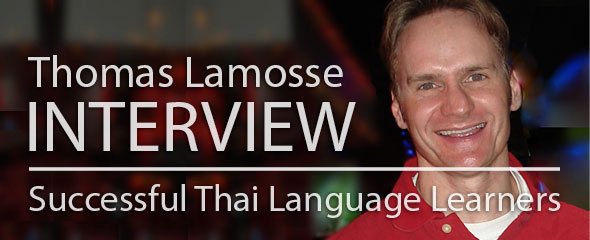 Interviewing Successful Thai Language Learners…
Name: Thomas Lamosse
Nationality: American, Edina, Minnesota
Age range: 30-40
Sex: Male
Location: Bangkok, Chonburi, Edina Minnesota
Profession: Teacher/PhD student-Phonology
Materials: Thai-2-me-Thai
What is your Thai level?
I will let you decide. I never boast about my language skills.
Do you speak more street Thai, Isaan Thai, or professional Thai?
When I speak Thai, I pay special attention to the tones, vowels and characters of the words I am using. I guess that would be considered more professional Thai, however, I really enjoy joking around with Thai idioms and "play on words" as seen in the Thai culture.
What were your reasons for learning Thai?
Work related.
Do you live in Thailand? If so, when did you arrive?
I spend about 6-7 months a year in Thailand teaching and doing research for my PhD.
How long have you been a student of the Thai language?
I have been religiously studying Thai language since 1996.
Did you learn Thai right away, or was it a many-pronged approach?
I started learning Thai right away with a special method I created called minimalism. Minimalism can be defined in this situation as learning basic vocabulary and small sentences to convey basic essentials for everyday usage. For example: "I am" "You are" "I want" "Do you have" etc.
Did you stick to a regular study schedule?
Yes, But I made a commitment right away to only speak Thai in Thailand. If I did not know how to say something in Thai, then that was something that was not important for me to talk about.

I learned how to say the things I needed to right away, and then added to my vocabulary everyday.

This was the most important factor in my learning Thai!

If you speak English in Thailand then you will always have a safety net. Take the net away and you force yourself to progress faster or you will have nothing to talk about with your Thai friends!
What Thai language learning methods did you try?
BEC language Pattaya-Sentence structure and Thai alphabet.
Ajarn Pat Sukatiparote Roseville Minnesota-Private tutoring on Thai characters, vowels, reading, writing and spelling.
Long Paw Pai Sit Wat Thai Minnesota-Sanskrit.
Benawan Poosan Beckers Thai for Beginners…Thai characters and vowels.
Individual studies/field research.
Did one method stand out over all others?
Ajarn Pat Sukatiparote, Roseville Minnesota-Private tutoring on Thai characters, vowels, reading, writing and spelling.

One on one tutoring with someone who has a strong background in teaching and has a command of the English language was key.
How soon did you tackle reading and writing Thai?
Within the first year.

I believe that without an understanding of the Thai characters and vowels it is nearly impossible to pronunciate Thai words correctly.

I think you can speak effectively enough to the point where Thais will understand you but never to the point of clear pronunciation.
Did you find learning to read and write Thai difficult?
Yes but with the right method you can learn anything.

The trick is to find the right method for your individual learning style and make a commitment to the learning process.
What was your first 'ah hah!' moment?
Discover the best method for my learning style.
How do you learn languages?
I have developed a method called "anchoring" that is to take an abstract concept and place it next to something concrete so there is a common frame of reference.
What are your strengths and weaknesses?
Commitment, dedication and hard work. Make a commitment to pronunciate every word in your vocabulary with perfection before you attack new vocabulary words!
What is the biggest misconception for students learning Thai?
Taking short cuts. A focus on constantly trying to develop a large vocabulary before correct pronunciation of the words one can already speak. Learn to pronunciate every word in your vocabulary to perfection before adding new words.

My opinion is that it is better to speak 10 perfect than to have a huge vocabulary that is spoken incorrectly by mispronouncing characters, tones and vowels.
Can you make your way around any other languages?
Yes, Portuguese, Bali Sanskrit, Laotian.
Were you learning another language at the same time as Thai?
No. My opinion is to get good at one thing before tackling a new project.
Thai is already difficult enough to learn without the confusion of another language.
Are you a computer programmer, or do you have programming experience?
No.
Do you have a passion for music?
No.
What advice would you give to students of the Thai language?
If you really want to speak Thai then stop speaking English right now!

Make a list of everything that is absolutely essential to your daily vocabulary. Then go out and learn how to say those things perfectly.

Forget the rest for right now.

If you ask me if I am fluent in Thai, I would tell you I am a teacher for Thai language. But at the same time I could tell you nothing about governmental procedure in Thailand because it is not within my vocabulary….interesting huh?
Regards,
Thomas Lamosse
The Series: Interviewing Successful Thai Language Learners…
If you are a successful Thai language learner and would like to share your experiences, please contact me. I'd love to hear from you.