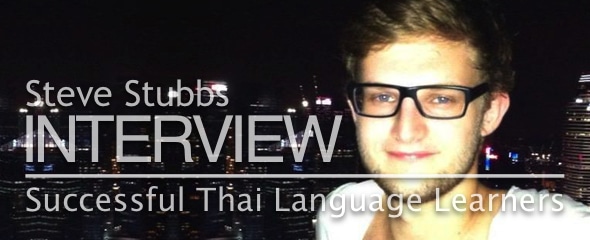 Interviewing Successful Thai Language Learners…
Name: Steve Stubbs
Nationality: British
Age range: 20-30
Sex: Male
Location: London, UK
Profession: Management Consultant / Teacher
Twitter: @SteveAStubbs
What is your Thai level?
Upper Intermediate.
Do you speak more street Thai, Issan Thai, or professional Thai?
Street Thai.
What were your reasons for learning Thai?
To be able to speak with locals, to make people laugh and smile and so that I could read menus and signs! Wherever I ended up with my teaching abroad, I was always going to give the language a go.
Do you live in Thailand? If so, when did you arrive?
I lived there for 11 months during 2012/2013 but am now in the UK. I'm looking to move back over if I can find the right job!
How long have you been a student of the Thai language?
I'd say from the summer of 2012 onwards.
Did you learn Thai right away, or was it a many-pronged approach?
I was eager to start learning the language as soon as I had booked my place on a teaching course over on Koh Kood. In the UK we have long summer holidays so I spent a lot of my time learning the foundations at home.
Did you stick to a regular study schedule?
I wouldn't say it was a planned schedule but I tried to do a bit every day in the past. Now its harder working around a job and living in a non-Thai speaking country.. but I try to expose myself to the language each day.
What Thai language learning methods did you try?
I started using Youtube with channels like Kru Mod / Kru Wee / Kru Mia. They were all very useful and I cannot praise them enough. I then used the Thai for Beginners by Benjawan Poomsan Becker (a great series for anyone starting out) and the rest in the series. During my time in Southern Thailand, I lived in the sticks with a home stay family.. certainly this was true immersion and was really beneficial to my progression!
Did one method stand out over all others?
YouTube is great in my opinion. You can tell the teacher to pause and to go back as many times as you want! And it's free. Also you are fully engaged visually and through sound. I find that if I am listening to just the audio, my eyes will wander.
How soon did you tackle reading and writing Thai?
After a few weeks of learning some speaking and listening, I was curious to know how this was represented using the Thai alphabet. I knew that if I wanted to truly learn this language, relying on a non-standardised transliteration script wouldn't be the right approach.
Did you find learning to read and write Thai difficult?
Initially I found it fine. It is an artistic language and fun to practise. I also had a system for memorising the three different classes. I also like that each letter is named after an object / person / animal – another boost to the vocabulary and it makes some imagery. The parts I found hard were: Learning the ending sounds for consonants, memorising the tone rules, the different fonts!
What was your first "ah hah!" moment?
Certainly when I first showed up at Suvarnibhumi airport. I had learnt a language for 3 months or so without even practising it with anyone! I started speaking to ask someone where the Taxis were and I had that 'ah hah!' moment when I realised he could understand me.
How do you learn languages?
I'm a visual learner, I like using mindmaps and pictures where I can. At the moment I am using flashcards on my phone which I can flick through during tube/train journeys. I also like to watch videos in Thai on Youtube.
What are your strengths and weaknesses?
Strengths: Confidence in speaking foreign languages with others, being able to pick up accents quickly, motivation to learn and try new methods.

Weaknesses: It used to be fonts but I am now more confident after practice. Now my biggest weakness is listening (especially that colloquial teenage tongue)! I need to get back to Thailand to practise this…
What is the biggest misconception for students learning Thai?
Many people are scared of the tones and the alphabet. The tones are actually not as hard as you may believe and once you crack them, they are fun to practise and to explain to fellow Westerners! They also make for a few funny mistakes down the road (Hee Maa = Snow or something else?). I believe that the Grammar in Thai is what makes picking up the basics quite simple. Once you know a verb, it stays like that for all plurals, genders, tenses – no conjugation! (I find Asian languages easier than European!) As for the alphabet, take it step by step. Perhaps learning a few new characters a day.
Can you make your way around any other languages?
Everywhere I go I like to learn the language. This has left me with a little bit of knowledge in things like Turkish, Vietnamese, Cambodian, Italian etc. I studied French in high school but it was seen as a subject in my teenage head rather than an interest and hence I haven't been able to keep it up.
Were you learning another language at the same time as Thai?
I tried to learn a bit of Chinese at the time just out of curiosity. I didn't pursue it in the end because I wanted to focus fully on one language.
What advice would you give to students of the Thai language?
Try and find a method that you enjoy. Overall I think mine is utilising videos as much as possible as this is what I have found most effective and engaging. Be confident! Go out there and speak with anyone and everyone. The first 5 minutes of speaking with a Thai person usually have the same questions in (I was going to put a 'same same but different' line in there). So if you are prepared for these and they understand, this will boost your confidence for the rest of the conversation! In my opinion, making the effort to learn the writing system really will pay off in the long run. Of course transliteration is a good starting point, but don't rely on it for too long because you will soon encounter pronunciation issues (Transliterated karaoke lyrics look horrible to me).
Steve Stubbs,
Twitter: @SteveAStubbs
The Series: Interviewing Successful Thai Language Learners…
If you are a successful Thai language learner and would like to share your experiences, please contact me. I'd love to hear from you.