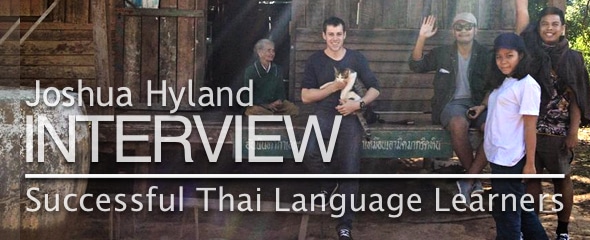 Name: Joshua Hyland
Nationality: Australian
Age range: 20-30
Sex: Male
Location: Bangkok
Profession: Business consultant
Facebook: JustJoshTH
What is your Thai level?
Fluent in speaking, advanced in reading and intermediate in writing.
Do you speak more street Thai, Issan Thai, or professional Thai? 
I speak conversational Thai and have learned a lot of slang from my student days and office colleagues.
What were your reasons for learning Thai? 
I first came to Thailand on an exchange program to Mahidol University and had Elementary Thai as a compulsory subject. I fell in love with the language and wanted to improve. For my degree I undertook a work placement in a hotel in Phuket shortly after the tsunami. I was in a kitchen with 15 Thais who spoke little English and obviously enjoyed talking about me. My main motivation to learn Thai at this time was so that I could communicate with them.
Do you live in Thailand? If so, when did you arrive? 
I first arrived in 2005 and still live here.
How long have you been a student of the Thai language? 
I have been studying Thai in some way ever I came here: 2005-ongoing.
Did you learn Thai right away, or was it a many-pronged approach? 
I personally learn fastest in real-life situations. When I first came over I had lots of opportunity to use my Thai at markets, in taxis and with friends, but also had classes which provided theory which was essential in getting me to where I am now.
Did you stick to a regular study schedule?
After my study at Mahidol was complete it was up to me to further my learning. During my work placement at a resort in Phuket, I studied after work religiously almost every day and practiced in the kitchen during work hours. Since then, my learning has been less formal and consists mainly of speaking Thai with friends and work colleagues.
What Thai language learning methods did you try? 
My teacher at Mahidol created course material herself which I think was very good. I had several books which were the only ones available in bookstores back then however can't recall the names as it was over ten years ago.
Did one method stand out over all others? 
Practical use of Thai language accelerated my learning more than anything else. Watching movies with subtitles is also great in developing a better understanding of how the language is used. The five tones and ต, ง and ป are some of the major differences to the English language. I learned to pronounce these correctly through painful drilling exercises which were executed by one of my first Thai friends. To encourage others that have been frustrated in learning thai – I was almost brought to tears one day when I couldn't differentiate บ, พ and ป!
How soon did you tackle reading and writing Thai? 
This was a part of my learning from day 1. I believe it really helps improve your speaking ability and wish I was better at reading and writing.
Did you find learning to read and write Thai difficult? 
Yes. The ending consonants and class of characters particularly confused me! After long enough, I found that I forgot the rules and reading became more instinctive.
What was your first 'ah hah!' moment? 
For me learning Thai definitely improved in leaps after long periods of no development. I recall having an 'ah hah!' moment when I realised that I could carry on substantially-long (albeit not very meaningful) conversations by speaking the few sentences I'd learned clearly and then saying ครับ a lot. This can get you into all sorts of trouble but can also be useful while you're getting to the next level.
How do you learn languages? 
For me I would say initially at least 50% theory and the rest forcing yourself to use what you have learned in real life situations. Later I reduced the amount of theory I was doing, though I think it's always good to jot down questions that you have and find the answers to them. Immersion learning is fantastic if you're lucky enough to be able to be in such a situation.
What are your strengths and weaknesses? 
My best strength is definitely my pronunciation. Second to that would be my ability in conversational Thai. Reading and writing are definitely my weaknesses. I am also finding that as I pass the 30-years-old mark, my vocabulary of new words is slowing.
What is the biggest misconception for students learning Thai? 
I believe that there is often not enough emphasis put on pronunciation. When I was able to differentiate between the five tones it greatly improved my overall ability to communicate in Thai. It's one of the more difficult lessons to learn but I think very worthwhile.
Can you make your way around any other languages? 
I studied Japanese for seven years in primary and secondary school. I can still read two of the three alphabets, but can barely string the most simple sentence together! I sometimes imagine what life would have been like if I had gone on exchange to Japan instead of Thailand.
Were you learning another language at the same time as Thai? 
I was only studying Thai when I came to Thailand. When I went home after nine months here, I had to re-learn English though! My grammar was shot and I had great difficulty communicating for some time!
What advice would you give to students of the Thai language?
There is no one-way that works best for everyone to learn a second language. If you're able to figure out what works best for you, that will really help you along. Try different classes, studying with movies, find some good friends to help you, shop at the markets, read lots of books and try the various mobile apps. Keep going until you find something that really works for you!
The Series: Interviewing Successful Thai Language Learners…
If you'd like to read more interviews the entire series is here: Interviewing Successful Thai Language Learners.
If you are a successful Thai language learner and would like to share your experiences, please contact me. I'd love to hear from you.