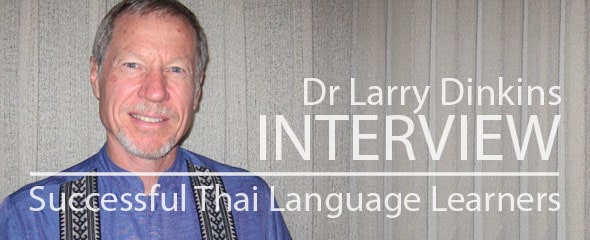 Interviewing Successful Thai Language Learners…
Name: Dr. Larry Dinkins
Nationality: American
Age range: 59
Sex: Male
Location: Chiang mai
Profession: Missionary
Website: OMF International
Products: Help My Halo Is Slipping (first four years in Thailand), New Toes for Tia, Walk Thru The Bible (12 hour vdo summary of entire Bible in Thai, available from Voice of Peace)
What is your Thai level?
Fluent.
Do you speak more street Thai, Issan Thai, or professional Thai?
As a missionary one must relate to all segments of society, but teaching a lot has shaped my language in a more academic sense.
What were your reasons for learning Thai?
A desire to share the message of the Bible in a way the Thai could understand.
Do you live in Thailand? If so, when did you arrive?
I arrived in 1980 and continued until 2002 when my wife was diagnosed with cancer. Following her subsequent passing in 2011, I decided to return to Thailand.
How long have you been a student of the Thai language?
1980+
Did you learn Thai right away, or was it a many-pronged approach?
I didn't even know "sawatdi" before I arrived, but started right in as soon as I got to Bangkok.

First year was full time at Union Language School on Silom. I would study until lunch and then practice on the street in the afternoon (my wife with a small child studied with a tutor). At 9 months I attempted my first sermon in Thai (I still have the manuscript, written in a kindergarten hand – I wonder if the congregation understood anything I said). We moved up-country our second year and started working among a core group of lepers to start a church and continued language study half-time (the community had virtually no English speakers). Third year continued with a third of our time dedicated to Thai language until I finished out my fourth year by taking the 6th grade Thai school exam.
Did you stick to a regular study schedule?
Yes.
Did one method stand out over all others?
Language Acquisition Made Practical (LAMP) was helpful in that you work on a short paragraph of Thai that you absorb and then share with up to 15 people. Each day you return to the same group of people with a new paragraph of Thai to share. In this way you build on the previous paragraphs and more importantly, you build relationships. I also hugely benefited from the bible story modual that became quite practical as I repeated those stories over and over (I still use the same phraseology when I retell those stories today).
How soon did you tackle reading and writing Thai?
Both were stressed quite early on.
Did you find learning to read and write Thai difficult?
It is a struggle to read at a smooth and rapid rate the way a Thai native does and though I am an acceptable speller, there are a number of words that still trip me up (remember, there are 65 letters)
What was your first 'ah hah!' moment?
Probably when in the simple sentence construction exercises we did in class, I actually began to make sense to my classmates.
How do you learn languages?
I studied Spanish in high school and enjoyed English class, especially grammar. Then in seminary I had the chance to study both Hebrew and Greek. I never spoke Spanish but my exposure to these languages from an analytical standpoint along with my interest in English grammar helped immensely when I needed to analyze the intricacies of Thai. So from the purely academic/book side of things, I had an advantage over some people who had no grasp of how language functions in general. My exposure to Hebrew and Greek helped me understand "weird scripts" and placements of consonants and vowels in unusual places.

Practically I began to label many common items in my house (which drove my wife bonkers). My mission had high standards and kept my "feet to the fire" through a language learning program that lasted a full four years. Daily excursions into the community to try out what I learned in class was crucial, that and being willing to make mistakes while exercising an innate curiosity about all things "Thai". This curiosity about especially cultural, societal and religious matters meant that I had an inexhaustible source of topics to learn and interact over.

I found that in the early going, having the ability to form good questions in Thai was more important than the ability to answer questions. When you asked questions and really listened, then you were able to hear a lot of natural Thai and as a result increase vocabulary. The adage, "I understand more than I can speak" is the natural way that we start out in any language … speech takes a while to catch up with hearing.
What are your strengths and weaknesses?
As a missionary you are called upon to relate to most every segment of society. Being around Thai for three decades means that conversations come fairly easily, plus the fact that Thai are always happy to speak with a farang with plausible Thai. My weakness would be in the realm of writing Thai. I can type in Thai fairly well, but spelling is my downfall and always slows me down. When I can stand at a white board and write down spontaneous answers from my students without fear and trepidation overtaking me, then I'll know I arrived as a Thai speaker. For now, I try to avoid such embarrassment if possible.
What is the biggest misconception for students learning Thai?
You hear all sorts of advertisements about CDs and schools that offer a "pain free" and quick way of absorbing Thai. From my experience there is no substitute for more programmed learning that keeps you accountable for the long haul. Studying at a desk is no substitute for using what you know on the street, that and being willing to make mistakes and retelling a phrase over and over until it becomes a part of your DNA.
Can you make your way around any other languages?
Being from Oklahoma, I speak excellent Okie, which goes over better with my cowboy friends than with my Anglican counterparts in my mission. I'm often asked if I can speak Northern Thai. I hugely respect those missionaries who can speak in a Thai dialect or even in a tribal language. But for me, my standard response is, "I still have my hands full with central Thai. If I added a dialect I'm afraid I'd end up butchering both languages."
Were you learning another language at the same time as Thai?
No.
What advice would you give to students of the Thai language?
Personable. Perseverance. Purposeful. Accountability. Curiosity.
regards,
Dr. Larry Dinkins
The Series: Interviewing Successful Thai Language Learners…
If you are a successful Thai language learner and would like to share your experiences, please contact me. I'd love to hear from you.