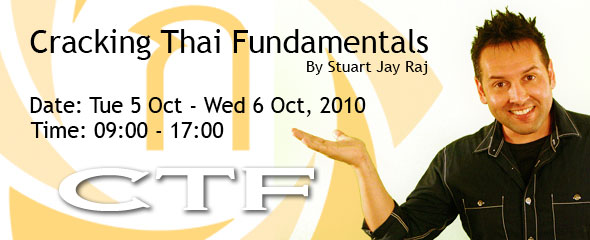 Stu Jay Raj is back with Cracking Thai Fundamentals…
As I mentioned earlier this year – Stuart (Stu) Jay Raj: Interview Part One – I met polyglot Stu Jay Raj right after landing in Bangkok.
I took Stu's workshop to gain an insight into the Thai language and culture. And I did.
Cracking Thai Fundamentals is for anyone who has just arrived in Thailand and wants to start off on the right foot or for anyone who has lived in Thailand for a long time but their knowledge of Thai sounds like a clumsy shoe falling down the stairs.
To help us to remember Thai vowels, Stu got us up doing funny things with our mouths, hands, and entire bodies. And to this day, I still smile at how Stu taught me to get the vowel า into my head.
To see what I mean, watch his video in the second part of the interview: Stuart (Stu) Jay Raj: Interview Part Two.
So instead of freaking out about Thai tones like everyone else newly studying Thai, I came away from Stu's workshop with cheeky memories of saying aaaaaaaaaaaaaaaaaaaah 🙂
Stu took his family off to Australia months ago. Then, in late August, I got a heads up with 'Hey Cat! I'm coming back!' So for those of you finding yourselves in Bangkok this October – lucky you.
Date: Tues (5th) – Wed (6th) October
Time: 09.00 – 17.00
For two days, Stu's Cracking Thai Fundamentals Bangkok Workshop will be on offer. And if I were you, I'd grab at the chance because Stu is only visiting Bangkok. Not relocating.
Btw: Those signing up for the workshop will receive a free online membership.
Mistakes people make when Learning a language…
Stu's teaching style is chock-full of fabulous energy that sucks his students into the excitement of it all. His latest video, Mistakes People Make When Learning A Language, is a perfect example.
Some of the mistakes we make are hilarious … if you are reading this and you've ever been to Soi Ruamrudee in Bangkok, you need to watch the clip lest you follow the hysterical (for others) route that many have trodden before you!
Look who's attending Stu's Thai workshop…
The online learning Thai community is close-knit, so it was a simple matter to get quotes from two people attending Stu's workshop. You'll already know Talen from his popular website, Thailand Land of Smiles (no longer online), or even his recent post on WLT: Review: Thai Language Schools in Pattaya.
Talen: Now that I am getting serious about learning the Thai language and taking language lessons, I am looking for anything that will help in this endeavor. The Cracking Thai Fundamentals workshop looks to be right up my alley and I am hoping that it will provide me a solid bridge into the fundamentals of the Thai language that I so desperately want to learn.
Talen (AKA Tim Bull)
twitter: @landofsmiles
I hooked up with Claudio on twitter yaks ages ago. As we twitter back and forth pretty much daily, he was happy to give me a quote too. It sounds like he's just as excited about the workshop as I was!
Claudio: I've been living in Thailand for two years and find learning Thai to be a big challenge. The problem is the tonal aspect of the Thai language. In addition, I struggle with remembering the words I learn; they seem to go in one ear and right out the other.

While reading through the course description of Stu's 2-day workshop "Cracking Thai Fundamentals", I became very interested. I then watched some of Stu's videos on YouTube, immediately liking his style and personality.

So far so good, but I wanted to be sure before signing up. I then reached out to my Twitter network to see if anybody had studied with him before. The responses I received from previous workshop attendees convinced me that this is a course I don't want to miss.

I signed up for the workshop and can't wait for it to start! I'm looking forward to a fun-filled and entertaining two days. And the prospect of finally mastering the consonant and vowel systems, as well as learning techniques to help me remember vocabulary, is exciting.
Claudio Sennhauser
Claudio Sennhauser | twitter: @DemoWell
Are you curious about the person Claudio talked to? I was too. And few tweets and emails later, Claudio's friend and former student of Stu's, @MrScottEddy, agreed to an interview (so watch this space).
And that's not all. After Talen and Claudio go through Stu's workshop, they'll do an interview as well. Megga.
Polyglot Stu Jay Raj around town…
Around the Internet:
Stuart (Stu) Jay Raj: Language and Mind Mastery
YouTube Channel: stujaystujay
Facebook: Stu Jay Raj
Twitter: @stu_jay
On WLT:
Stuart (Stu) Jay Raj: Interview Part One
Stuart (Stu) Jay Raj: Interview Part Two
Successful Thai Language Learner: Stuart (Stu) Jay Raj
Mnidcraft: The Art of Language
Cracking Thai Fundamentals Meets Mnidcraft Over Songkran