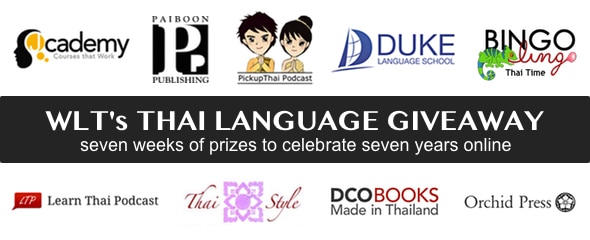 WLT's 2015 Thai Language Giveaway…
Was that a wonderful seven weeks, or what? Overall, US$4500 in prizes were given away by: Stu Jay Raj (Jcademy), Duke (Duke Language School), Bingo-Lingo (Read Thai in 10 Days), Jo and Jay (Learn Thai Podcast), Tom and Kruu Jiab (Learn Thai Style), Benjawan Poomsan Becker (Paiboon Publishing), Chris Pirazzi (Word in the Hand), Yuki and Miki (PickupThai Podcast), James Higbie and David Smyth via Danny at DCO Thai and Orchid Press.
Wow. And thank you! You've all made this the best giveaway ever.
The sponsors in WLT's 2015 Thai Language Giveaway were chosen because they are at the top of their field. They create materials with Thai that you will actually use, and also have a longtime commitment to the learning Thai industry.
Curious about what's coming next, I bugged each for a final time (final, for now) to let us know what we can expect in the future.
Jcademy: We are in some exciting times at Jcademy. I have spent the past 20 years in the education and training industry. Most of that was running face to face training programmes with clients in training facilities – either their own facility, ours, or we would rent a training room at a hotel. While I love soaking up the energy of the participants while I am running my programmes face to face, doing that day in and day out can be exhausting.

Ten years ago, I didn't believe that the technologies available could address the customised issues that I faced with each of my clients and frankly speaking, the course authoring and Learning Management System (LMS) technology that was available was limited and in many cases quite clunky. Now, technology and bandwidth has caught up I have found that with the technology that is readily available now, I can create truly interactive learning modules that can be deployed on any device that really help learners to learn and develop new skills through repetition and testing.

At Jcademy we have built a platform that supports these technologies. We are presently working with companies and people that have knowledge that might have traditionally been held in only their heads, in books or training manuals and we are helping them to convert them to rich, interactive training solutions that can be monetised, localised and opened up to new markets that they wouldn't have had access to in the past.

Using our platform, people with truly wonderful content can now spend their time doing what they do best, and those who have great business and marketing skills can use the tools that we have to run and grow their training and education based businesses, reducing the need to create any more new content that they have to.
Duke Language School and Bingo-Lingo (Arthit Juyaso): At Duke Language School, our aim is to give expats and foreign residents an alternative to the other teaching materials and methods, some of which have never undergone change for nearly 50 years. Right now we are working diligently to create entirely new Thai courses to suit the modern Thailand: "Journey Survival 1-2-3", "Journey Conversational 1-2-3", and "Journey Fluency 1-2-3", are the backbone of our Thai programmes that focus on communication which focus on natural Thai that Thai people actually speak, practical language that is more relevant to everyone's life in Thailand, and engaging classrooms taught by professional teachers who know how to make the class fun (I have personally trained them). These courses can be taken in conjunction to "Explore 1-5", Thai reading and writing course, so the students can learn how to speak, read and write all at the same time to maximise their learning experience. Each course lasts 24 hours, 2 hours a day, so it's long enough for our students to learn a lot of useful stuff but not too long to make them bored. Our upper-intermediate and advanced course are also undergoing a lot of changes and eventually we will have all the courses suitable for everyone learning Thai. On top of that, we are also working days and nights to develop fully interactive online courses which can be accessed by students as stand-alone platforms or as supplementary to their physical classes.

As for my own book, Read Thai in 10 Days by Bingo-Lingo, it has enjoyed positive feedback so far. Considering it my first ever published book, I'm very chuffed 🙂 So in the future, after I'm done with creating the Journey courses I have plans to write more books about Thai language, and improve RTITD to be better than ever. In the meantime, I will also write articles on Women Learn Thai, and perhaps drop in the Farang Can Learn Thai FB group to help out learners, as I always have. So many ideas so little time! Thank you everyone for your support, in return I will give back to the community as much as I can.
Learn Thai Podcast: We are currently working new Thai culture content and also some ways to get even the most unmotivated people to learn some basic Thai.
Learn Thai Style: The future at Thai Style Language is looking very busy! We have a LOT going on and some huge plans for future development. Some of our plans include new teacher locations with Australia. Kruu Jiab is very busy concentrating on the second edition of the Speak Thai Course (level 1) as well as a Thai script only edition. The Speak Thai Course level 2 has been planned out and development has started. Our Upper Intermediate Course is constantly being added to. New blog posts are being created weekly and new teachers added daily!

And remember, if you are a registered learner or teacher you will always get access to new updates for no extra cost! Happy learning and we look forward to being a part of your Thai language experience.
Paiboon Publishing and Word in the Hand: We are nearing completion of a massive 2.0 upgrade to the Talking Thai-Eng-Thai dictionary app that has been more than two years in the making. This upcoming free 2.0 upgrade will include thousands of new Thai words suggested by users, thousands of complete, ready-to-use customizable phrases divided into 200+ practical categories like "Hotel," "Ordering Food," "Renting a Place," and "Price Haggling," a Favorites feature that lets you save and organize words and phrases you are learning, full-text search that lets you find words in the middle of phrases, and a complete rewrite of the internals of the app that will allow us to issue more frequent cross-platform upgrades in the future.

The Thai for Beginners app v2.0 will include these new features: increase size of text, turn off English text, Play All will play all phrases in a lesson, and added English voice to allow Thai speakers to practice their English pronunciation. Android update available now, iOS update in September 2015.
PickupThai Podcast: We hope you guys have been enjoying our two podcast series, Sweet Green and Spicy Red. For total beginners, we have great news for you. We'll start a new course that's going to be a perfect fit for you in a few months. Plus, our newly designed website will be launched soon. It will be packed with lots of free and fun lessons as usual but will be much easier to navigate. We are very excited to show it to you. Like our Facebook page (PickUpThai), follow us on Twitter (@PickupThai) and keep visiting our website if you don't want to miss any updates.Thank you all for your support. We truly appreciate it.
DCO Books: For those looking for English books published in Thailand, the DCO websites are still a good source. They can also sometimes find those out of print books that others sellers have long stopped stocking. Just use the inquiry form on the website to ask for these hard to find books.

In recent years DCO has offered a publishing service to would be authors. Originally started to help local writers enter the then new ebook market, they now also help with print on demand options, both in Thailand and outside.
Again, my thanks goes to Stu Jay Raj (Jcademy), Duke (Duke Language School), Bingo-Lingo (Read Thai in 10 Days), Jo and Jay (Learn Thai Podcast), Tom and Kruu Jiab (Learn Thai Style), Benjawan Poomsan Becker (Paiboon Publishing), Chris Pirazzi (Word in the Hand), Yuki and Miki (PickupThai Podcast), James Higbie and David Smyth via Danny at DCO Thai and Orchid Press.
You've all made this a wonderful seven weeks, and I look forward to how your companies evolve throughout the year!
Posts: WLTs 2015 Thai Language Giveaway…
Here's the entire list for the series. And what a series it was. Thanks all. Really. It was an amazing good time.