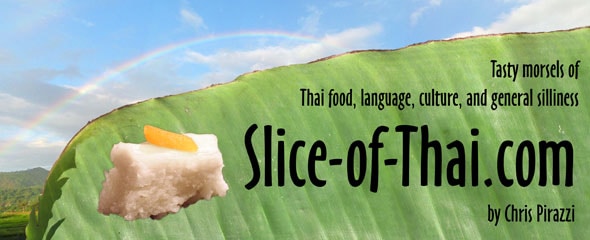 Naming names in Thai language learning…
When I first started learning Thai, the same names kept coming up: Mary Haas, Shoichi Iwasaki, Preeya Ingkaphirom, David Smyth, James Higbie, J. Marvin Brown, John Moore, Joe Cummings, Andrew Biggs, Stuart Campbell, Denis Segaller, Chuan Shaweevongs, Christopher G. Moore, Dr. Paul Pimsleur, Benjawan Poomsan Becker, and Rikker (the guy I find everywhere).
And then there is Chris Pirazzi…
For those of you who don't know, Chris has been around the Thai scene about a decade or so.
Some people (many of whom are stuck in cubicles at home) like to read through my occasionally-bitter 1999-2003 journal entries: Slice-of-thai.com: Journal
Expats tend to be more interested in the part of the journal about Pai, Mae Hong Son, where I've lived since 2003. That journal entry ended up expanding into a complete (also hobby) website of its own: Introduction to Pai, All About Pai
There's also a number of short, instant-gratification-type pages with desserts, various silliness, and a downloadable bilingual housing/shop rental contract, linked off of the root: Slice-of-thai.com
And it was Chris Pirazzi and Vitida Vasant who gave us the instructive Thailand Fever.
Thailand Fever is an astonishing, one-of-a-kind, Thai–English bilingual exposé of the cultural secrets that are the key to a smooth Thai–Western relationship.
After reading Thailand Fever, I can attest that it is not just for Western guys and Thai gals. In fact, I was so impressed with the contents that a review is in the works. Time…
Thai language at Slice-of-thai.com…
The real reason for featuring Chris on WLT is his Thai language contributions.
On the language side, my goal is to fill in some of the missing pieces of information, which would have helped me in my early study of Thai, that I don't find in other books or websites. I've seen so many people struggle to say and recognize the Thai tones, and certain tricky sounds like b/bp/p, so I wrote some material, recorded some sounds with a Thai friend, and wrote some software that people could use to see the tone of their own voice using a microphone.
I also want to help people avoid silly "format wars" about transcription systems (e.g. Paiboon, thai-language.com, IPA, etc.) so I have a page comparing them, and I let people choose which system they want to see on the site.
There is also a page about syllable stress, which is rarely covered in today's language learning materials, but helps people predict when the real tones of fluent Thai won't match those predicted by the tone rules.
The New Thai & English Pocket Dictionary…
Chris's most recent Thai language accomplishment is the New Thai & English Pocket Dictionary, co-authored with Benjawan Poomsan Becker.
Over the last year I have been putting an insane amount of work into Paiboon's new dictionary, which is just now coming out: New Thai & English Pocket Dictionary.
I contributed to the editing of the new dictionary from a native-English speaker's point of view, and did all the programming and typesetting. I hope people will like it; we put in a lot of features I would have wanted when learning Thai, such as classifiers listed alongside nouns, large print (especially Thai script), more words, Thai lookup by transcription or Thai script, and stress.
When Chris informed me that he was involved in the New Thai & English Pocket Dictionary, I contacted Danny at DCO Books to request a copy asap.
And now for a mini-review of Chris's Thai dictionary…
If you read my series on Thai phrase books, you'll already know that I'm a stickler for legible book design. Being a stickler, I'm happy to report that the Thai-English-Transliteration dictionary is: just the right size, easy to skim, and has a Thai script that is more than legible (you might be surprised to hear just how many Thai-English books fudge on the issue of legibility).
And, a biggie for me (but nothing to do with design), it also includes classifiers with nouns!
Besides the Big Green Brick (the Mary Haas Thai-English Student's Dictionary), I now own four small Thai dictionaries. And when it comes to small, I now keep the New Thai & English Pocket Dictionary next to my sofa.