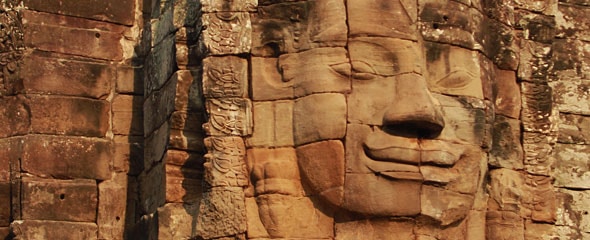 Siem Reap, Cambodia…
Siem Reap in Thai is pronounced in a slightly different way than you might be used to hearing: เสียมราฐ /sĭam-râat/. And funny enough (but perhaps not to Thais), Siem Reap in Khmer translates to 'Siam Defeated'.
Wiki: Siem Reap: The name Siem Reap means the 'Flat Defeat of Siam' — today's Thailand — and refers to the centuries-old conflict between the Siamese and Khmer peoples.

This name was baptized by King Ang Chan (1516-1566) as "Siem Reap", meaning "the flat defeat of Siam" (Cambodians call Siam or Thailand "Siem"). It was because of the victory over the Thais which King Ang Chan counter-attacked, and shot Prince Ong dead on an elephant's back, and routed the Thais and captured no less than 10,000 Thai troops.
Even with the Cambodian–Thai border dispute being manipulated by politicians on both sides, antagonism between the two countries has mostly slowed down to a soft boil.
And while I haven't asked Thais, the Cambodians I've talked to admitted to a fondness for the Thai people. I'm curious, what's been your experience, if any?
Siem Reap five years ago…
I've dreamed of walking around the huge stone faces of Bayon ever since National Geographic did a feature on the Wat. I believe I was around 14 years old. Or was I 16? Close enough.
Only back then I thought the area was called Ankor Wat. How wrong I was.
Five years ago I finally made it to Siem Reap. I'm told that partially due to the Khmer Rouge shutting down the country, many of the colonial buildings in the old part of town have been mostly preserved. Um. Thanks?
Using the quaint city as a base, during my visit I trudged through way too many Wats. Some were almost completely restored while others were distinguishable only as piles of stone. Yes. You got it. My long awaited adventure morphed from a thrill a minute to quite the dull drudge.
Even though the trip was exhausting, I absolutely loved the city and the main Wats. And no surprise to me, the enormous faces of Bayon stole my heart. Ok, Thailand owns the biggest part of my heart but there's room for more. Seriously.
Each evening, after a long day of sightseeing, I'd head to the Viva Mexican Cafe situated in the old part of town.
Armed with an order of nachos and (small) buckets of margaritas, I'd sit beside the sidewalk to watch the street show. There'd be a smattering of tourists strolling the partially lit streets, street kids trying out their multi-language skills, and tuk tuk drivers parking and/or sleeping nearby.
Ever since that trip I've vowed to go back to Siem Reap. FINALLY, with well-traveled friends visiting from the UK this month, away we went!
Siem Reap in 2012…
Depending on the flight, Bangkok to Siem Reap is either one hour away via propeller driven plane, or a mere half hour by jet. We went during the week (less popular) so the airline used a small plane going over. In comparison, the return was booked for a Friday night so we were whoooooooshed back to Bangkok.
There's no way getting around saying this (and I've tried) but the excitement of our arrival was deflated when the Heritage Suites Hotel neglected to collect us from the airport. After waiting outside the airport for what seemed like forever we gave up and traveled to the hotel via van instead of the promised vintage Mercedes Benz (formerly owned by Father King Norodom Sihanouk). Sigh. Riding in a van wasn't special. It was merely 'ok'.
During the ride to the Heritage we passed hotel after new hotel. A big change. When I queried the driver about the growth he mentioned that something like 150 hotels had gone up in the past few years. Wow. I hope their infrastructure keeps up with the pace.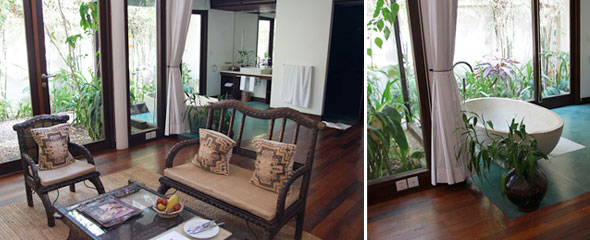 Once at the Heritage Suites Hotel the manager, Magnus Olovson, took immediate charge of the situation. Apologising for the snafu, Magnus upgraded everyone to spacious suits. Is that impressive, or what? And I'm sure the next question is, how can you get a snafu too?
Thank you Magnus (but honestly, I would have been happy with a ride to the Viva Mexican Cafe in the 'Bentley' 😉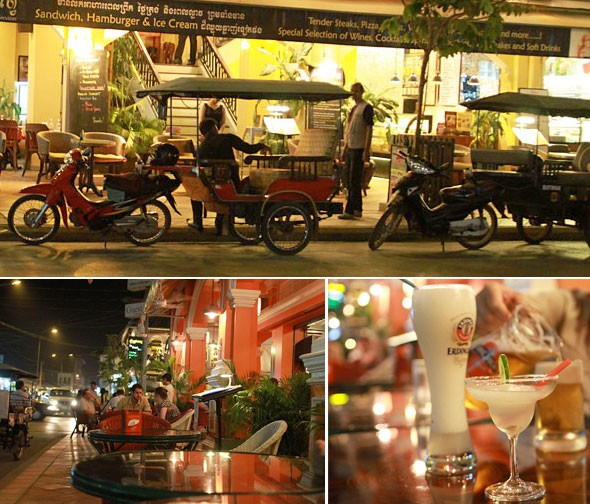 After jumping in and out of showers we called for tuk tuks to take us to dinner and drinks at the Viva Mexican Cafe.
Unlike on my first trip the now lit streets were filled with tourists and the restaurant heaving!
A further sign of Siem Reap's recent success, the nachos at Viva went upmarket (but were just as tasty) and the actual buckets filled with margaritas were no more. The small buckets were replaced by large beer glasses instead. No matter. The margaritas went down mighty fine.
After wandering around the old part of town for an hour or so we headed back to the pool and our private steam rooms, deep bathtubs, and super comfy beds.
Magnus, it was mighty fine. So again, a 'ta' from me.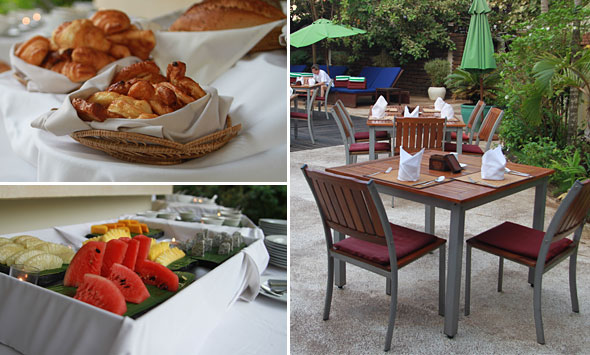 Breakfast by the pool was rather good and the wait staff were exceptional. Congrats Heritage. Well done. In addition to the buffet, the outdoor chef cooked up delicious plates filled with omelets, bacon, sausage, and grilled tomatoes. The coffee was topnotch as well.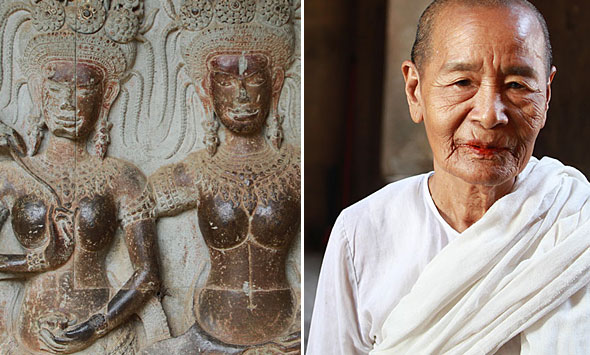 Breakfast over, soon enough the guide arrived and off we went to our first stop, Ankor Wat. The sun was at a bad angle (not conducive for decent photos) so I won't share my weak shots of the famous entrance over the moat. Apologies. Perhaps better photographers have light tricks unknown to me.
Wiki: Angkor Wat is a temple complex at Angkor, Cambodia, built by King Suryavarman II in the early 12th century as his state temple and capital city. As the best-preserved temple at the site, it is the only one to have remained a significant religious centre since its foundation – first Hindu, dedicated to the god Vishnu, then Buddhist.
Walking around the Wats our guide pointed out the many headless Buddha statues. He mentioned that their heads were chopped off and buried in the jungle by the rival religion. Nice to know. And all this time I thought the destruction of the stone Buddhas was due to the shameful (western) antique market.
Many, but not all, of the heads have been found. Sooo, is anyone up for a treasure hunt? Hmmmm?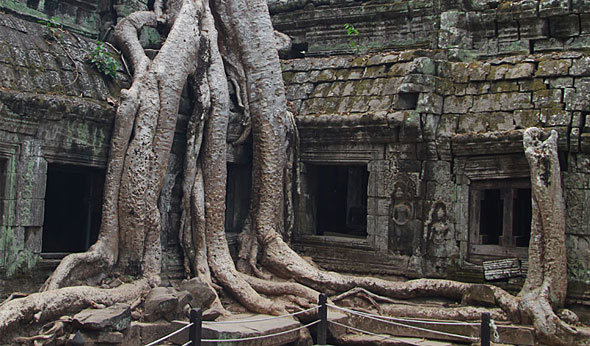 Next on the agenda was Ta Prohm, known for its impressive trees growing over stone buildings.
Wiki: Ta Prohm is the modern name of a temple at Angkor, Siem Reap Province, Cambodia, built in the Bayon style largely in the late 12th and early 13th centuries and originally called Rajavihara.

Located approximately one kilometre east of Angkor Thom and on the southern edge of the East Baray, it was founded by the Khmer King Jayavarman VII as a Mahayana Buddhist monastery and university.

Unlike most Angkorian temples, Ta Prohm has been left in much the same condition in which it was found: the photogenic and atmospheric combination of trees growing out of the ruins and the jungle surroundings have made it one of Angkor's most popular temples with visitors.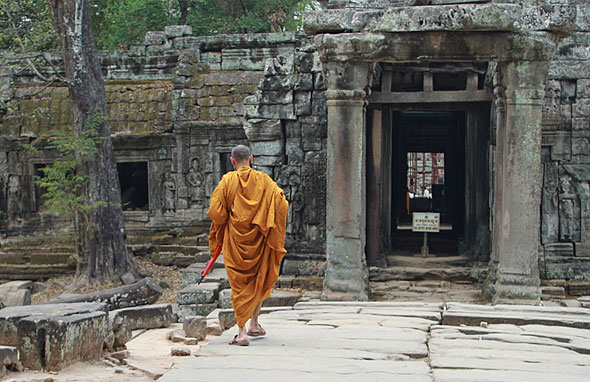 I swear this very monk was walking in this exact same spot five years ago!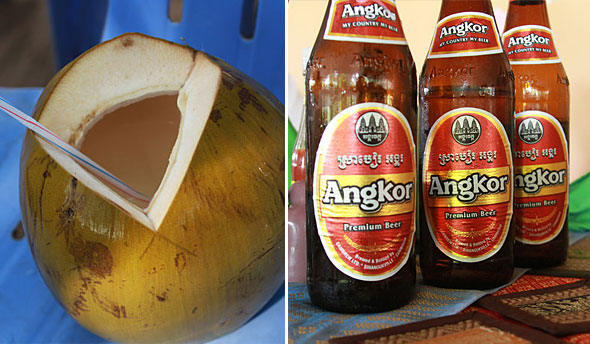 A fair bit of Ta Prohm was under construction so after seeing what we could, off we went to what turned out to be an excellent lunch washed down with coconut water (moi) and beer (them).
Why did I go for coconut water? On holiday no less? Sure, I do sometimes enjoy a good beer, but in the heat of the day a nap must soon follow. And hey, that's just one of my many excuses for not drinking beer.
Cambodian food is far less spicier than Thai food but the lack is easily remedied by bowls of cut chilis. And every time we ordered chilis, broad smiles came too.

Tip: If it's absolutely crucial to get decent photos, and you don't know any light magic, make your intentions clear to your guide.
Five years ago I was delivered to the Wats that mattered at perfect times. But, on this trip, I didn't realise the importance until we rolled up to washed out Ankor faces. Boring.
I do understand why we arrived at Bayon when we did. These days there are HUGE numbers of tourists crowding the Wats, so after checking out the situation, our guide made a snap decision to change our itinerary.
Pity I didn't come across this site in time:
The Bayon: Built by Jayavarman VII the temple stands in the center of Angkor Thom. With its 54 towers and 216 faces of Avalokiteshvara, this temple looks best in the morning just after sunrise or at the end of the afternoon as the sun shines on the faces.
After agreeing to make it back well before sundown we returned to the hotel for a needed rest.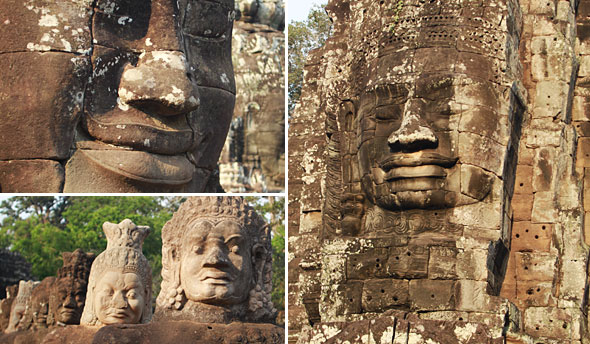 We got back to Bayon around 4pm. With hindsight, to get the best chance at catching more of the golden light, perhaps it should have been 3pm instead. Live and learn…
I saw noticeable renovation on the statues flanking one of the entrances to Bayon (shown in the bottom left photo). And most of the replaced heads were already showing considerable damage. Odd.
I asked the guide about the destruction and in his opinion it was deliberate. Supposedly the large chunks out of the renovated heads were done to make them look more like the originals. It looked like vandalism to me.
The day is not yet over, but as this seems a perfect place to stop this post, I will.
Before I sign off, Snap was at Siem Reap shortly before my visit so please stop by to say 'hey': Arriving in Siem Reap.