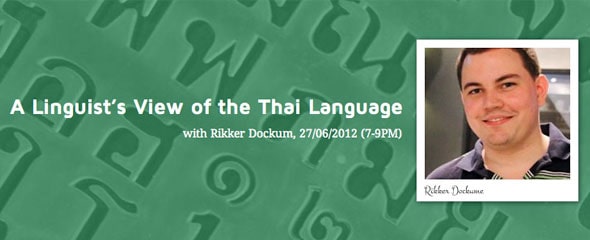 A Linguist's View of the Thai Language…
If you are in Bangkok on Wednesday, June 27, guest writer Rikker Dockum will be speaking on the subject of the Thai language.
Rikker Dockum has been studying Thai for a decade. Fluent in Thai, but always looking to improve, he is interested in drilling down to the very roots of the language to learn how it developed into its current form, and he's found doing so to be the key to better mastering the language. As a former Fulbright scholar he studied ancient Thai inscriptions, the oldest written records of Thai, and nowadays keeps busy with various projects related to Southeast Asian linguistics.

Rikker will discuss Thai from a linguist's point of view. He'll touch on some common questions — Why does Thai have multiple letters for the same sounds? Why so many consonants that appear in just a handful of words? Why on earth hasn't this all been simplified? And just what is up with Thai transliteration into English? The answers to these questions may surprise you, but they will certainly leave you with a better appreciation for the complicated history of the Thai language as a living legacy of a cultural crossroads.
Place: Cafe Tartine (BTS Pleonchit)
Date: Wednesday, June 27, 2012
Time: 19:00-21:00
Rikker Dockum…
Blog: Thai 101: Thoughts on Thai language, media, and culture
Twitter: @thai101
Guest author: Thai 101 Learners Series
Interview: Successful Thai Language Learners: Rikker Dockum