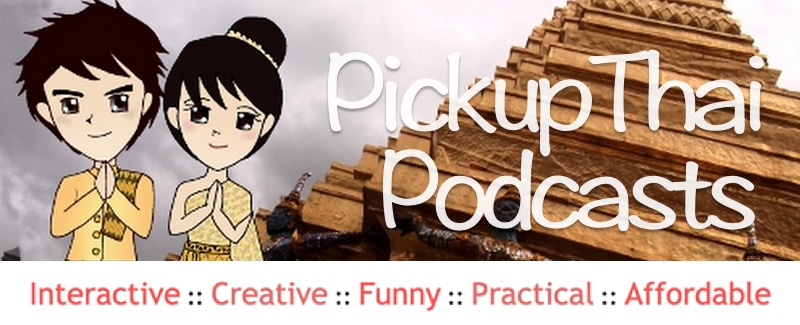 PickupThai Podcast…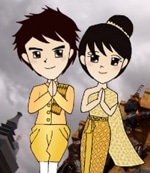 PickupThai Podcast teaches real Thai, not Faranged Thai. Throughout the lessons you'll learn common sentence structures with particles and idioms that Thai people use in their daily lives (but almost never ever get mentioned in textbooks).
Learning these structures is the key to speaking real Thai – and you'll do just that with audio files recorded in a relaxed, natural way of speaking.
At present there are two courses on offer at PickupThai Podcast, Sweet Green and Spicy Red. More will be added later. Sweet Green is for beginners to low intermediate students of Thai, and Spicy Red is for upper-intermediate and advanced learners.
Apart from using real Thai, another main selling point of PickupThai Podcast is the liberal use of humour throughout. I mean, who wouldn't have a hoot studying Thai with sentences such as these?
วันหลังห้ามตดในที่สาธารณะอีกนะ
Don't fart in public again, OK?
เธอคิดว่าแฟนเธอหน้าเหมือนแบรดพิทท์เหรอ
You think your boyfriend looks like Brad Pitt?
ฮีตเตอร์ผมพังก็เลยไปเมืองไทย
My heater broke, so I went to Thailand.
To get a taste of Yuki's humour, check out her free YouTube videos. Such fun!
Each course at PickupThai Podcast includes an audio file, two artistically designed pdfs (one with transliteration and one without), and a plain text file for those who want to use the materials elsewhere (such as Anki, BYKI, or LONGDO).
Important, instead of teaching vocabulary and phrases on their own, the materials focus on teaching words and phrases in context. And what I especially appreciate is the casual mix of L's (ล) and R's (ร). Often we are taught only to roll our R's, which is just not common on the street.
Using male and female voices, the audio lessons are roughly 30-40 minutes long. The recordings are clear and personable; it's almost like having Yuki and her sister Miki chatting away in your living room! And a plus, there is no invasive music or long talking intros in the sound files. I don't know about you, but I get impatient with courses that add unnecessary time to lessons. Instead, the intros are short and sweet, moving on quickly to what you want to learn.
As each course progresses they get slightly more difficult after each lesson, with the difficulty level being quite significant between lessons 1 and 15. If you want to compare Sweet Green to Spicy Red, from the free downloads be sure to choose each from their difficulty level, such as Sweet Green 1 and Spicy Red 1, and/or Sweet Green 11 and Spicy Red 11. If you compare Sweet Green 1 to Spicy Red 11 the results will be skewed.
PickupThai Podcast: Sweet Green Pod…

As mentioned above, there are two pdfs for Sweet Green. One with just Thai script and English and the other with transliteration and English.
The plain text file has Thai script and English, but no transliteration. NOTE: The plain text files are not carbon copies of the pdf files (sometimes there are parts missing).
Each course comes in two parts: The main conversation lessons teaching patterns and vocabulary, and a question and answer section using the patterns taught in the first lessons but with different phrases and vocabulary.
Conversation sections: First you are given the conversations at normal speed, followed by a slower speed, then the vocabulary used in the lesson. And finally, the conversation with English translations.
Question and answer sections: Using a 'graduated-interval recall' method similar to Pimsleur's, the question and answer section is the power of the courses at PickupThai Podcast. A complete phrase is spoken, then broken down into smaller parts, each with their English translation. After, you are prodded to respond to Yuki's "how do you say…".
Each sentence pattern has four sentences using the same pattern. To keep it fun, humour is sprinkled around. Sweet Green's sentence patterns and interactive "how do you say…" questions geared to draw out a response are a simple, yet robust way to get Thai into your head.
PickupThai Podcast: Spicy Red Pod…

As with Sweet Green there are two pdfs for Spicy Red. The Thai script pdf has English in the Vocabulary and Sentences and Translations sections only. The other pdf is the same, but with transliteration instead of Thai script.
The plain text files come with Thai script (no transliteration). The plain text files sometimes have the English translations along with the vocabulary, sometimes not.
The lessons in Spicy Red are conversation heavy, making them significantly more challenging than Sweet Green. Except for the vocabulary section that has English translations, the crutch of English in the audio files is noticeably absent. These lessons are perfect for those who want to practice listening to Thai without the overly invasive English found in many Thai lessons.
In Sweet Green each lesson covers one conversation, but in Spicy Red there are two longer conversations, each with sentence patterns similar to Sweet Green. Leading is a conversation for the first half of the storyline, then the vocabulary used, followed by a series of question sentences and true or false questions, ending with the sentences and their English translations. The second part of the lesson repeats the process with a conversation that continues the storyline.
PickupThai Podcast: Sweet Green and Spicy Red…

To cover practical situations you'll find in real life, PickupThai Podcast teaches real Thai from as many angles as possible. In Sweet Green there are stories of a mother talking to a daughter, two strangers talking to each other, a sister talking to a brother, friends talking to each other, etc. Sweet Green focuses on daily life situations such as getting a taxi, buying food, eating out, making a phone call, going to the movies, and more. The advanced Spicy Red course concentrates on the more complicated life situations you'll find yourself in. To see each course in detail, go to this page on PickupThai Podcast.
Now that I've touched on the basics, why not see for yourself? Go ahead and take advantage of Yuki's four FREE lessons at PickupThai Podcast's store (Sweet Green and Spicy Red 1 and 11).
Yuki and Miki, PickupThai Podcast
Website: PickUpThai Podcast | Youtube: Yuki Tachaya | twitter: @PickupThai