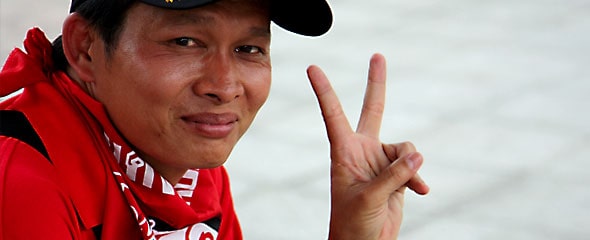 The Red Shirts are coming…
When I woke up yesterday morning, there were no plans to go running around Bangkok looking for protesters. But when the termite company poisoned not only my condo but my lungs, go I did.
Calling my favourite taxi driver, we headed out. I'm near Victory Monument but we skirted around to the Thai Parliament for a real red fix.
All in all, they were a cheerful bunch…
If you are looking a good way to learn Thai online, check out ThaiPod101. Although their courses are not free, they are cheap, effective, and can quickly teach you conversational Thai. All ExpatDen readers get a 25% discount using this link.





Psst… Did you notice all the English?