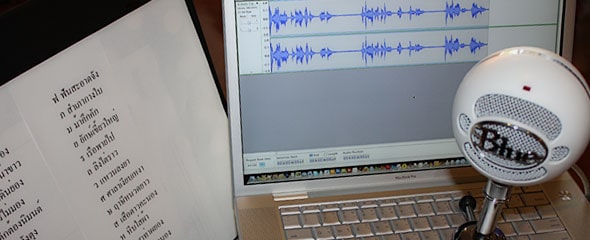 I've got recording (mostly) sussed…
I finally read all the way through the instructions to my SnowBall, so in this post you'll get the basics for recording your own Thai too. Whether it's for your Thai lessons, or a SLR, or a few Thai words here and there.
What I use to record…
Mic: SnowBall (inexpensive and gives great sound)
Pop filter: Nady MPF-6 Nady 6 Inch Clmap On (guards against spitting sounds)
Software: Audacity (free and runs on both Mac and PC)
Computer: I'm using a Mac (PC's are fine too)
Thai: A Niwat (translates, does voice, and cleans up nice)
The basic settings to record voice…
On the back of the SnowBall there's a switch with 3 settings. Flip it left to #1.
Mac (PC will be similar) >> System Preferences >> Sound >> Blue Snowball USB.
Audacity >> Preferences >> Audio 1/0 >> Device Core Audio: Blue Snowball >> 1 (Mono).
Leave the rest of the Audacity settings as is.
Restart Audacity (important).
When I finally had everything in place, there were grins all around. Just check it out.
Recording then.


Recording now.


Both were recorded directly via Audacity without much messing around. Sure, you can tweak the noise removal (as well as a ton of other options), but noise removal makes for a metallic file (once heard, you'll recognise it on files around the net).
Recording with Audacity…
Open Audacity >> Save Project As (give it a name) >> click the round pink button to record >> click the brown square button to stop.
Cut, paste and delete inside that file, or paste a selection into a fresh file.
To remove volume differences (you'll be glad you did), select all (Command+A for the Mac, Ctrl+A for the PC), then go under Effect >> Compressor >> and leave the settings as is.
Read the Audacity manual for more editing details.
Personal tip: When recording for long stretches, sometimes my files corrupt. A pain. As a safeguard, save the file, then export as your file type of choice (I'm using MP3 for now).
File >> Export as >> WAV / MP3 …
Setting yourself up…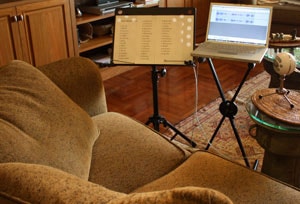 I'm using my living room at the moment. Computer on keyboard stand, script on music stand, mic nearby.
It's pretty good, but not perfect. What I'm lacking now is a sound booth.
You'll agree too when you hear the noticeable whooping of a Common Koel in the background of the Thai Alphabet poem (coming next).
In the meantime we're shutting off the AC's and fans, holding our breath, and dripping sweat like crazy.
Oh, and hoping the darn birds sleep through each recording session (dream on, yes?) Don't get me wrong, I love hearing the birds of Thailand (just not superimposed over my Thai lessons).
Still to come, a sound booth…
Harlan Hogan improved on an excellent idea from Douglas Spotted Eagle (no longer online). A portable sound booth. Pretty basic, all it takes is a Whitmor Collapsible Cube and acoustic wall panels (see Harlan's site for instructions).
If you can't be trusted with a sharp knife, go to amazon.com and purchase a Porta-Booth ready to ship.
Ingenious really. Douglas figured out that for quiet recording, isolating the mic is a must. But not the whole room.
Featured recording resources and more…