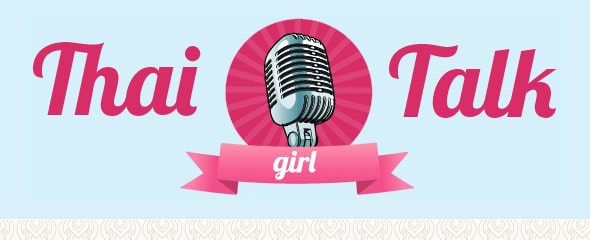 Questions at Thai Girl Talk…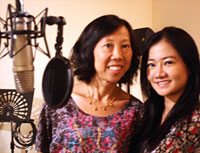 We're so excited to guest post on WLT for our podcast Thai Girl Talk.
But after we agreed to interview each other, Mia and I couldn't agree on what questions to ask…
Lani: Do you feel like a man trapped in a woman's body or a woman perfectly happy in her own body?
Mia: I'm not sure I understand the question.
Lani: Oh, Mia!
Mia: Let's talk about Thai Girl Talk (TGT). For example, what is TGT?
Lani: It's a weekly podcast about Thai language and culture.
Mia: Exactly. People will also want to know who we are.
Lani: Well, we are both teachers. Although you teach Thai, and I teach English…oh they can read about us on our About page! Okay. What do you love and hate about Thailand?
Mia: It couldn't be anything else but the food and fruits, and oh I forgot, riding a scooter without helmet and driving without a seat belt. Sorry, I'm a bad example!
Lani: 555
Mia: Now back to the questions. Who should listen to TGT? I think anyone who loves Thailand.
Lani: Speaking of Thailand, why are there so many ghosts here?
Mia: The same answer as to why there are so many ladyboys – social acceptance. We believe in ghosts – it's a law of attraction.
Lani: Wow. That's a good answer. Now, you lived in the United States for 10 years? What did you love and hate about living in the United States?
Mia: Love the way people drive, hate that I could not get food on the street at 1 o'clock in the morning. What about you?
Lani: I'm starting to miss the landscape. I'm from Hawaii and I consider myself a West coast gal. America is a beautiful and big country. But I hated how I had to work all the time just to make ends meet.
Mia: Yeah. Thailand is easy.
Lani: Totally. While the cost of living is rising, it's still affordable. What's your favorite Thai food? And favorite Western food?
Mia: For Thai, anything that puts fire on my tongue. For Western, spaghetti with meatballs sprinkled with red crusted chili.
Lani: Yum! Okay, next question, since you are a Chiang Mai native and I, a mere half-Thai or look krung, what is the most annoying biggest misconception of Thais that foreigners have?
Mia: Foreigners who believe it when Thais say "mai pben rai" or never mind.
Lani: Ooooo. Good one. And foreigners would probably be equally annoyed by the saving face aspect of Thai culture.
Mia: But that is why people should listen to TGT! They will gain inside information about Thailand from a native Thai, and from you, an expat. How long have you been living here?
Lani: I just signed on for my 3rd year at my school.
Mia: Congratulations! So you see, our listeners can learn a lot by listening to us. They can also leave comments, suggest topics, tell the world to listen to us, download our podcast, and listen while they do the dishes…
Lani: 555+ Excellent. We upload our podcast and blog every Friday at: Thai Girl Talk. Join us and let us know what you think!
Mia: Yes! Thanks Cat!
Lani: Hey Mia, when are you going to answer my first question!
Listen to Mia and Lani every Friday at Thai Girl Talk
Have a question about Thai language ask Mia at learn2speakthai