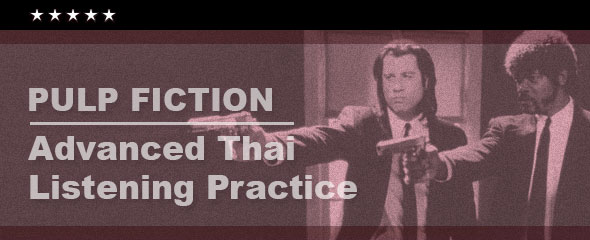 Advanced Thai listening practice…
Last week I posted Gaccha's Thai Reading and Listening materials. And as mentioned, Gaccha's aim is to encourage others to create more Thai learnings materials.
To show what else is possible, here's Gaccha's Pulp Fiction YouTube video (below).
If you are looking for a good resource to learn Thai online, check out Learn Thai from a White Guy. Upon entering your email, you'll get five free lessons to help you start learning to read Thai.
Creating videos such as these can be extremely time-consuming, so thanks Gaccha! A special mention also goes to Rikker from Thai 101, who did the transcripts.
If you haven't noticed, Rikker is constant in the learning Thai field. When I checked his blog this morning, I see that he's also translated Bon's latest video at: Farang: A Nature Mockumentary. Fabulous.
PS: A feature with Bon is coming soon…
Apologies Bon, but the Red Shirts… well… you know…