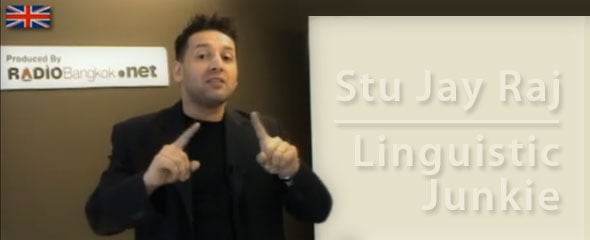 Stu's impressive multilingual presentation…
In case you've missed it, this week on WLT has been back-to-back Stu Jay Raj:
And if you live in Thailand, then you'll know that it's been HOT HOT HOT this week. Trying to keep cool, I've been hiding out under the AC, spending a bit of my time poking around on the Internet. Along the way I rediscovered a couple of Stu's YouTube videos (below).
And as videos are the next best thing to seeing Stu in person… well… you know…
Stu has fabulous videos on YouTube (I can watch for hours). So if you are unsure where to go next, head to his YouTube channel: stujaystujay
Side note: I was lucky to have the Stu Jay Raj experience early on. And in listening to his videos, I'm thinking that it was a mixture of Benjawan, David, and Stu who convinced me that learning to read Thai early is the way to go. It took me a bit to find a teacher who agreed, but I got there in the end. And for me, I agree too.