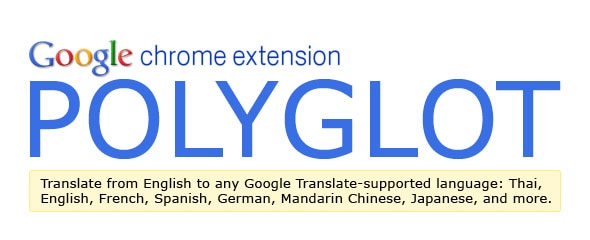 Polyglot, a Google Chrome Extension…
One of the keys to learning a language is exposure. It stands to reason that the more opportunities you create for exposure to the language you are learning the more effective, and ultimately more rewarding, the learning process will be for you.
In Thailand there are loads of ways to do this. You've got your local walk to the dtaam sang shop for lunch, chewing the fat with the guys in the win motor-sai at the end of your soi, ploughing your way through headlines in the tabloids, and even enduring the god-awful soap operas.
However, it's not always the case that you want to turn the additional language sensors up to eleven and embark on a full-on linguistic workout. Sometimes you just feel like a gentle stroll through the language garden.
It's on occasions like this that Polyglot might be just the ticket.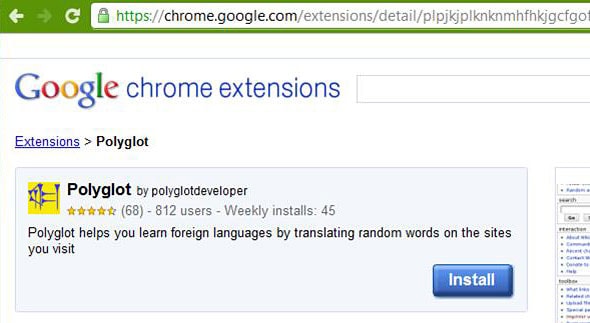 Polyglot is a neat little add-on for Google's Chrome Internet browser that peppers your page with words and phrases in Thai, allowing you to get a light dose of language practice as you go about your daily surf.
The extension randomly takes words from the webpage you are browsing and converts them into Thai (or indeed any one of the 56 languages on offer). You can specify the likelihood that a word will be translated, you can ask it to ignore words below a letter count of your choosing (allowing it to skip common vocab like simple connectives and pronouns), as well as a few other little customisations like the colour of the translated words.
Here's an example of a typical translated page using Polyglot.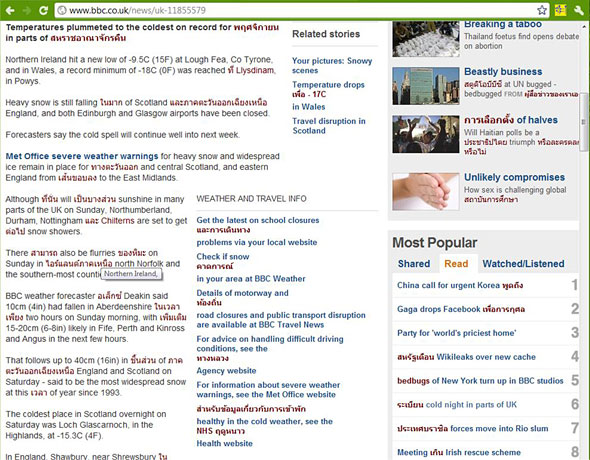 As you can see from the screen shot, it's not overwhelming and every few sentences you get to stop and think for a second before moving on in English. You can see too that you can mouse over translated words to see the original text.
As is also clear from the example, the translations are not always correct. This is inevitable with words having numerous meanings or shades of meaning. Often you can see where the confusion has happened, and it's my opinion that spotting mistakes and working out why they are mistakes is just another good way to strengthen your knowledge of a language. If you're lucky they can be pretty funny too, as in the example below.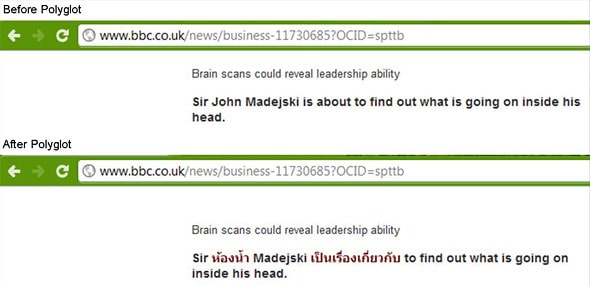 Nice to see that Google Translate is up on its American slang!
There is a good set of discussions about the effectiveness of Google translate in these very pages, here and here that go into some depth about the effectiveness of the tool.
Shortcomings aside, Polyglot is a nice little distraction which learners of Thai might find helps to keep the language exposure up and the learning moving forward.
You can download the extension here: Polyglot
Hamish Chalmers
Tweet Yourself Thai | Twitter: @AjarnPasa
Successful Thai Language Learner: Hamish Chalmers