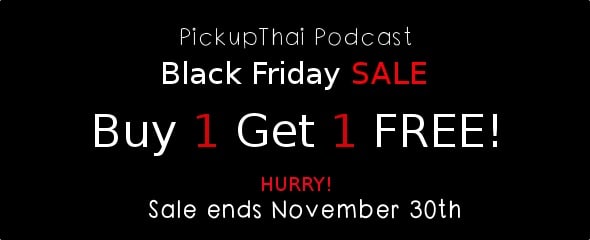 PickupThai Podcast Black Friday Promo…
It's that time again – time to save mega-bucks at PickupThai Podcast!
PickupThai Podcast: Fun-based Thai podcasts that teach you how to speak exactly like a native speaker.

Learn 100% REAL Thai from fun stories and funny phrases. Throw away your boring textbooks. Learn Thai with us and sound like a foreigner no more!

Now is the best time to start! Enjoy our Black Friday promotion while it lasts and save BIG! Buy any podcast from one of our three courses (beginner, intermediate and advanced) today and get another podcast from the same course for FREE!!!

Hurry! The promotion ends November 30th, 2016.
For more info: PickupThai Podcast
Client kudos: Reviews
Free samples: All levels available
List of podcasts: Podcast Store
For the "Black Friday" promotion, click here: Value Package
If you are looking for a good resource to learn Thai online, check out Learn Thai from a White Guy. Upon entering your email, you'll get five free lessons to help you start learning to read Thai.