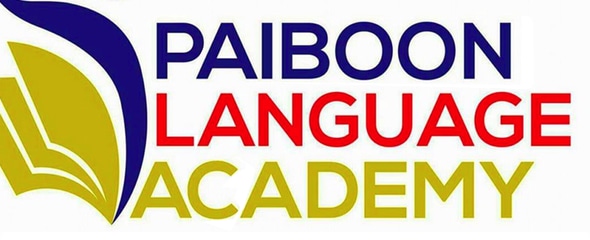 Paiboon Language Academy…
Exciting news! Benjawan Poomsan (Paiboon Publishing) has launched into a new venture, the Paiboon Language Academy. Without further ado, the press release is below:
First Online Interpretation and Translation School for Thai Speakers
โรงเรียนวิชาการล่ามและการแปลทางออนไลน์แห่งแรกสำหรับชาวไทย

Great news for those who want to learn to become interpreters and translators.
ข่าวดีสำหรับผู้ที่ต้องการเป็นล่ามและนักแปล

The first online interpretation and translation school for Thai speakers is open for registration.
โรงเรียนวิชาการล่ามและการแปลออนไลน์แห่งแรกสำหรับชาวไทยเปิดให้ลงทะเบียนแล้วนี้

Paiboon Language Academy (PLA) was founded by Benjawan Poomsan, a well-known author of dozens of Thai language books and apps to teach foreigners to speak Thai. Her products are widely used by English speakers because of their quality and affordability. She has been a professional interpreter and translator in the US for over 20 years.
สถาบันภาษาไพบูลย์ (Paiboon Language Academy หรือ PLA) ก่อตั้งขึ้นโดยเบญจวรรณ ภูมิแสน นักเขียนชื่อดังที่แต่งตำราและแอพสำหรับเรียนภาษาไทยจำนวนมากให้ชาวต่างชาติได้เรียนภาษาไทย ผลงานของเธอได้รับการนำไปใช้อย่างแพร่หลายในหมู่ชาวต่างชาติอันเนื่องจากคุณภาพและราคาที่ย่อมเยา เธอได้เป็นล่ามและนักแปลมืออาชีพในสหรัฐมากว่า 20 ปี

There is much need for Thai interpreters in the US and in the countries where many Thai people live. Even in Thailand, interpreters are in great demand in business meetings, conferences and the court system, where communication problems exist.
มีความต้องการล่ามไทยอย่างมากในสหรัฐและในประเทศที่มีคนไทยอาศัยอยู่จำนวนมาก แม้แต่ในเมืองไทย ล่ามก็เป็นที่ต้องการไม่ว่าจะในการประชุมธุรกิจ การประชุมสัมมนา และในศาลในเวลาที่มีปัญหาในด้านการสื่อสาร

Many Thai people all over the US have requested that Benjawan teach them to become interpreters because they had no idea what to do, or where to begin. In the past 10 years, she has trained her friends, single moms and stay-at-home housewives to become interpreters and translators. Many of these women now make a good income and no longer have to work in Thai restaurants or traditional Thai massage shops.
คนไทยหลายคนทั่วสหรัฐอเมริกาได้ขอให้เบญจวรณสอนวิธีการเป็นล่ามให้เนื่องจากไม่รู้ว่าจะทำอย่างไรหรือจะเริ่มตรงไหน ในช่วงสิบปีที่ผ่านมา เธอได้ฝึกเพื่อนๆ แม่บ้าน ผู้หญิงที่เลี้ยงลูกตามลำพังให้เป็นล่าม ปัจจุบันหลายคนได้มีรายได้และได้เลิกทำงานที่ร้านอาหารไทยและร้านนวดไทย

Benjawan has teamed up with her qualified interpreter friends to teach interpretation and translation courses online and also a general English online course.
เบญจวรรณได้ร่วมทีมกับเพื่อนๆ ที่เป็นล่ามที่ทรงคุณวุฒิเพื่อสอนคอร์สวิชาการล่ามและการแปลและคอร์สภาษาอังกฤษทั่วไป

Our goal in the general English course is to help Thai people anywhere in the world become better at speaking and using English so they can communicate and work effectively with the global community especially our ASEAN neighbors.
เป้าหมายของเราในคอร์สภาษาอังกฤษทั่วไปคือเพื่อช่วยให้คนไทยไม่ว่าจะอยู่ที่ใดของโลกสามารถพูดภาษาอังกฤษได้ดีขึ้นและใช้ภาษาอังกฤษในการสื่อสารและทำงานกับชุมชนโลก โดยเฉพาะอย่างยิ่งกับประเทศเพื่อนบ้านในเขตอาเซียนได้อย่างมีประสิทธิภาพ

Now with online technology, PLA can bring this knowledge to the Thai people in Thailand and other countries to become professional interpreters and translators and to improve their English skills at an affordable price.
เนื่องจากปัจจุบันนี้เรามีเทคโนโลยีออนไลน์ PLA สามารถนำความรู้ให้กับคนไทยที่ประเทศไทยและในประเทศอื่นๆ ที่จะเป็นล่ามและนักแปลมืออาชีพ และพัฒนาทักษะภาษาอังกฤษได้ในราคาที่ส่วนใหญ่สามารถเรียนได้

Students will be happy with the quality of the content and the quantity that we are offering.
ผู้เรียนจะพอใจกับคุณภาพและปริมาณของเนื้อหาที่เราจะมอบให้

Please visit our website for more information.
กรุณาเข้าชมเว็บไซต์ของเราสำหรับรายละเอียดเพิ่มเติม

Website: paiboonlanguageacademy.com
Facebook: Paiboon Language Academy
Paiboon Language Academy, a subscription based online learning website, offers two main courses: The Interpretation Course (US$25 per month / US$250 per year) and the General English Course ($10 per month / $100 per year). Both courses have online videos, monthly exercises or quizzes.
Even if you are not interested in studying to be a Thai interpreter or translator (yet), you'll reap the benefits because lucky for us, Benjawan has a generous nature. Stay tuned for taster videos in Thai and English.
If you are not familiar with Benjawan's work, here's an interview just out this week by Thai Women Living Abroad: Benjawan, Interpreter and Famous Language Guru. And here's my interview with Benjawan Poomsan Becker.
Posts on WLT written by Benjawan:
Teaser: The Interpreter's Journal: How it Started
Teaser: The Interpreter's Journal: Mistakes and Misinterpretations
Teaser: The Interpreter's Journal: Studying Foreign Languages