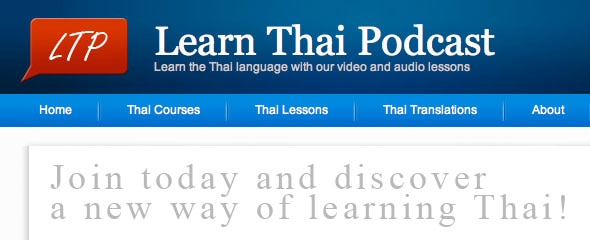 Learn Thai Podcast…
Learn-Thai-Podcast.com started when Jay worked in Thailand 4 years ago. He came here to work for a design company and we just did some lessons for fun. We stopped at some point but received a lot of positive feedback so about 2.5 years ago we decided to do this seriously and make a real online Thai course. This is when we started the original Premium Course.
I love languages, studied English and have been or I'm still learning English, German and Japanese so I knew a bit about language teaching methodology and linguistics. Right from the start I was responsible for the lessons and all the content and I always received feedback from Jay and other foreigners on how well one lesson structure worked. In the beginning we did about seven to ten different lesson formats before we decided to go for the one we have now (with 3 repetitions and word by word translations). Everyone agreed this worked best.
Since then and now over 700 lessons later it has been a great experience. While I enjoyed teaching the basic Thai grammar, Thai word usage is a whole different and for me very fascinating field. A lot of the things we teach in intermediate lessons about word usage can't be found in any Thai textbooks because there are simply no written rules for that. Speaking habits come and go and change over the years and exploring this area is not only really helpful for people who want to speak more like native Thai speakers but also a bit like venturing into places no one else has been before. I absolutely like that even though it causes me lots of headache while working on lessons. Some concepts are so unique to the Thai language that it is hard to express them in English but I do my very best and so far we always came up with the right descriptions to explain them to our course members. We also always test our lessons with some people who don't know Thai and see if they understand what we explain. No matter how difficult the subject if someone who is new to Thai can't understand most of it right away we have to break it down even further (to more easily digestible bits).
We have done 3 courses over the last years. A beginner course in which people learn all the basics of the Thai language, grammar, pronunciation, 3000 of the most common Thai words and some speaking habits. An intermediate course in which we focus on sharpening peoples listening skills, explain more advanced grammar and a lot of word usage. A reading & writing course in which we walk people step by step through the process of learning to read and write with theory and practice lessons and writing exercises. We are currently redoing all of these courses and adding lessons along with brand new lessons every week to our new LTP Premium Course. So we have one subscription now for all three courses, plus we just started an advanced section with more lessons.
Our idea with all lessons and the essential idea with all our courses is to enable members to take baby steps with our lessons while making giant leaps in learning the Thai language. For example once you understand that for the falling tone in Thai you just have to start a syllable with a bit higher sound and end up at the regular sound of your voice it becomes much more easy. We are trying to find these foreigner-friendly concepts that just work and pass them on to our subscribers.
I think this is also one of the benefits of the Internet. A lot of things can be made a lot easier because we have all the time of the world. We do not have to fit all content on a CD or DVD and therefore can cover things with a lot of detail and as we always do with a lot of examples. Why so many examples?
Instead of learning a language like it is sometimes taught in school, through repetition and strict rules, we want to emphasize usage based language acquisition. Of course the best thing would be that everyone could just walk out and immerse themselves in the Thai language but that isn't possible for a lot of people. So we try to add as many examples and usage scenarios to our lessons as possible to help people to get a feeling for the language and to learn it more naturally.
There is no way around learning rules, especially in the beginning when you have just started to learn Thai, so if a new member learns with our course before he should move on to conversation lessons we recommend to do the basic sets of grammar lessons (that all come with a review lesson to reinforce what you have learned… yes! lots of examples!) that has a foundation to start from. Things just become a lot more simple in Thai if you know the basic rules very well (and there are not that many too!)
After that and in all our intermediate and advanced lessons we focus on conversational Thai (or in some advanced lessons formal Thai like you see on TV). With these lessons people also learn Thai within a context so it is easier for them to remember it. Our intermediate and advanced lessons come as individual groups or how we call it cycles in which all lessons relate to each other. How we do this can be seen in our video about cycles.
About the technological side of things Jay has some more things to say: I'm a technology geek I have to admit it. I get excited thinking about the mobile Internet and read technology blogs several times a day. We choose the Podcast format as our form of delivery because it is very easy for people to receive new content and if you have always new content already on your computer or mobile device you will use it more often and therefore it is easier to create a habit of learning Thai (which is so important if you really want to learn the language).
We did a survey some months ago and over 70% of the people mentioned the ease of using the course and the content delivery as one of several reasons why they enjoy learning with us. We are dedicated to this idea and will support future technology that enables users to learn better in any way possible. We are already working on some more ideas to make it easier for people who use the mobile Internet to enjoy our content (and vocabulary trainer).
The site has grown a lot, and we currently have over 55gb of individual lessons. This will of course get even more with the new LTP Premium Course and its new video formats. We also have over 16.000 entries in our database, along with audio files, that will become available in the vocabulary trainer as we post all the updated lessons in the coming months (along with the new lessons).
Jo and Jay,
Learn Thai Podcast