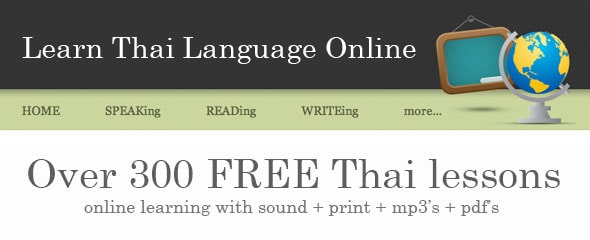 Download 300+ FREE Thai Lessons…
A largely unknown (and huge) Thai learning resource can be found at thai-language.weebly.com. Being an unknown might be due to the totally bizarre and off-topic landing page.
I've been rushing around lately. Quite a bit. So apologies as I haven't had time to check out the Thai. I mean, are the lessons Central, North, expat, holiday, or a sampling? I won't be 100% positive until I do find the time to spare.
All I can say for sure is that the audio files have a quaint, classic sound. The ambiance (intentional or not) makes me smile. And in a good way. Out of all the Thai courses I have on hand (and I have the majority), this one draws me.
If I had to describe the sound, I'd say that it's sort of like recordings made in WWII. Tokyo Rose comes to mind.
If you want to skip over the political announcement, then by all means go straight to the sections: Speaking, Reading, Writing, and Video.
And if you do have the time to poke around that site, please let me know what you think – about the Thai lessons, not the Thai politics. I don't do politics. And for good reason.