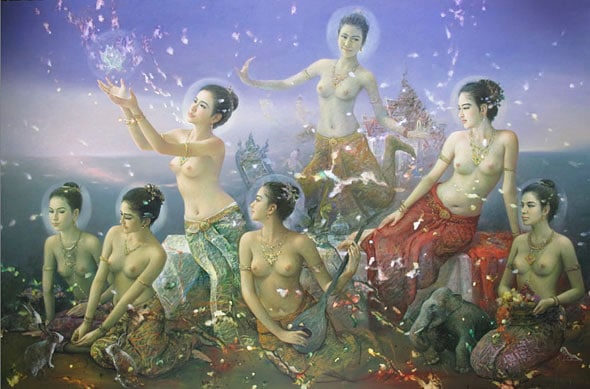 Nang Songkran by Thai Artist Sompop Budtarad…
About this time last week saw the beginning of the Songkran bare breasted ladies debacle. For those who missed it: Three extremely young lasses danced topless during the Songkran celebrations in Silom, Bangkok. A YouTube video of the three minutes (?) went viral. The Thai Ministry of Culture posted threats and warnings. Twitter went crazy after discovering a Songkran banner depicting topless Thai ladies on the Thai Ministry of Culture's website (shown above). In a knee-jerk response the Thai Ministry of Culture took the Songkran ladies down.
Songkran's bare breasted ladies week focused on other issues as well (links shared below) but my interest is with the painting. Another crazy week, I didn't make the time to search for the artist but Richard Barrow shared a post about on Sompop Budtarad on twitter this morning. Thanks Richard!
thaiartxhibition.com: "Nang Songkran" by Sompop Budtarad presents paintings depicting the legend of Nang Songkran (Thai Goddesses of Songkran), the urban story that relates to the Buddhist belief and the local way of life closely connected to the agricultural culture and society.

The artist applies the symbol of fine art as the means to transmit his notions, beliefs, and the beauty of a goddess named Kirinee Dhevi, the Songkran goddess of the year 2011. Kirinee Dhevi dresses elegantly and has a magnolia behind her ear. She mounts on an elephant, her food is nuts and sesame and her gem is emerald. While on her hands there is a hook on the right and an arm gun on the left.
Sompop Budtarad's complete bio is here but for those of you who prefer to read a shorter version, here you go: Born in rural northeastern Thailand, Sompop was influenced by temple art. At age 15 he moved to Bangkok to study at the Poh Chang Art School and then majored in sculpture and graphic art at Silpakorn University, where he graduated in 1980. Five years later he was commissioned to paint murals at the Wat Buddhapadipa temple in Wimbledon, UK. Three years after that he returned to Thailand. Along with exhibitions in Thailand, Sompop Budtarad's work has been seen at the Royal Academy Summer Exhibition in London as well as in the US and Japan.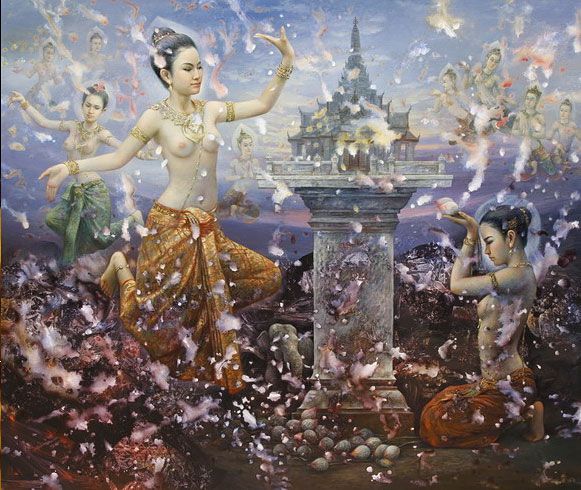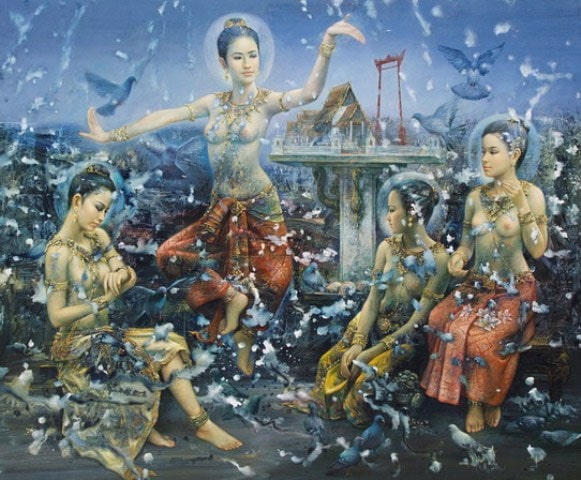 Sompop Budtarad: In developing, we must choose the best from around the world. When change comes too quickly, it confuses people. We have to know ourselves, where we have come from, where we are now, where we are going in the future. We must understand the roots, keep our heritage and embrace progress, but in a way that preserves and respects the environment and Thai culture.
I do not consider art solely the most honorable thing in my life, but as a necessity for both my mind and spirit. Art has become part of my being. Through art, I probe and externalize my thoughts, emotions, experiences, and assuage my curiosity. I bring them all before the world in many forms. My instinct merges with time and the circumstances that surround me.
Just my personal opinion… but… a week has gone by and now, more than before, I believe that Sompop Budtarad's romantic, tasteful paintings depicting Thai culture and history do deserve to represent Thailand. What do you think?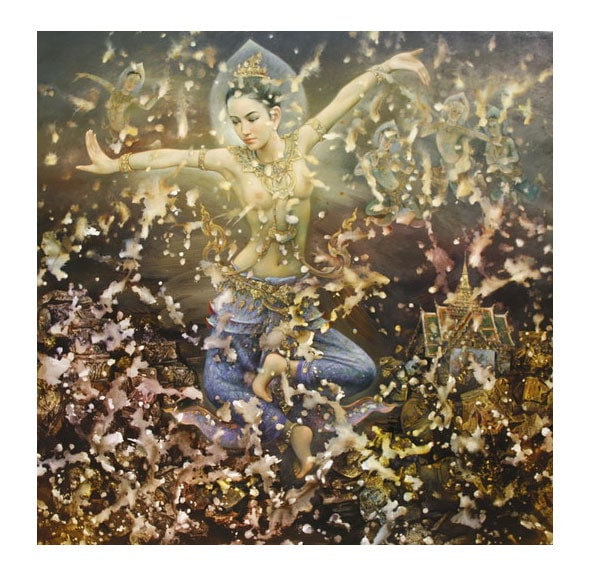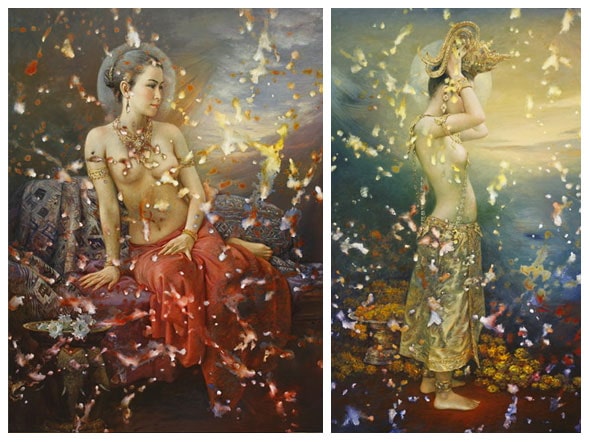 A week of bare breasted Songkran ladies…
Not only did Thailand's online newspapers and blogs take up the story, but all around the world the top news agencies did as well. But first up, everything to do with the bare breasted Songkran ladies in Thailand.
thaifinancialpost.com: Culture Ministry to issue Songkran handbooks
prachatai.com: All bra none
2bangkok.com: Suthep and the Songkran Dancers
asiancorrespondent.com: "Only taboo when it's inconvenient!" – Interview with Thai author Kaewmala on the outrage at topless Songkran dancers
bangkokpost.com: Where the Songkran topless teens learned to dance
Edit: There were six BKK articles in all but the Bangkok Post removed everything except for the Learning From The News section. What a waste.
thaiconnoisseur.com: Bare breasted brouhaha in Bangkok
womenlearnthai.com: Thailand, Please Bring Back the Bare Breasted Ladies of Songkran
globalpost.com: Updated: Boobgate rocks Bangkok
thaipoliticalprisoners.com: Topless teenagers leave elite outraged, killing red shirts ignored
thaiwomantalks.com: Toplessness in Thai Culture—The Mammary Truth
whatismatt.com: Thai-style morals
And here's a small selection of the international sites:
nytimes.com: Thais Are Shocked, Shocked by Topless Dancers
time.com: Thailand's 'Topless Teen' Scandal and the Sexual Politics of Southeast Asia
asiancorrespondent.com: Uproar in Thailand over Songkran topless dancing
huffingtonpost.com: Thailand Denounces Three Topless Teenage Songkran Dancers (no longer online)
cnngo.com: Songkran scandal: Topless teen revelers spark outrage in Bangkok
asiaone.com: Topless pair sorry for Songkran frolic
thejakartaglobe.com: Thai Outrage Over Topless Holiday Dance
globalvoicesonline.org: Thailand: Outrage over topless teen dancing
boingboing.net: Topless teen terpsichore in Thailand turns into truly terrible "Taliban!" Twitter taunts
There are hundreds more sites discussing the Songkran topless ladies of Bangkok. But I'll stop there because my intentions were merely to show just how far-reaching this was. Yes. The world is watching.
Well, everyone in the world except for the UK. I checked the BBC, Times, Guardian, Daily Mail, and even the Sun (which you'd expect to cover a subject such as this). Nadda. No bare breasted ladies of Songkran. What gives?