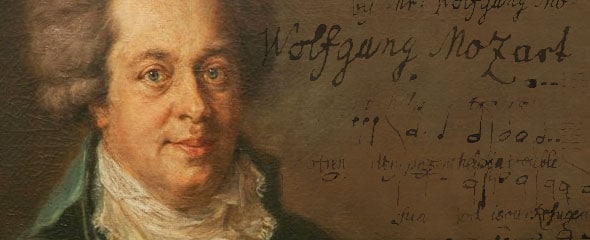 Music for studying foreign languages…
Listening to Baroque music has long been touted as cure-all for studying languages. Some even go as far as to say that listening to Mozart improves the quality of your health and well-being. From my personal experience, both statements are reaching a fair bit.
It's a no brainer that listening to Mozart won't make you smarter. Because if that were true, I'd be a genius by now. And while I do enjoy Baroque music on occasion, a nootropics stack washed down by a hefty dose of caffeine seems to garner more immediate results. Or perhaps just different… I'll have to get back to you on that.
I won't go as far as to say that the Mozart Effect Doesn't Work at all, because anything that helps my frame of mind while I study is a benefit. But I've yet to try listening to Stephen King!
BBC: Does listening to Mozart really boost your brainpower?… One study found that listening to Schubert was just as good, and so was hearing a passage read out aloud from a Stephen King novel. But only if you enjoyed it. So, perhaps enjoyment and engagement are key, rather than the exact notes you hear.
My interest in using music while studying languages is purely for the feel-good factor. It's a simple concept really. If I'm in a good mood then I'll study longer. And if I relate good moods with studying, then I'll look forward to my next study session. The result? Studying for longer and more often will (hopefully) mean that I'll be learning more.
Awhile back I became impatient with the Mozart Effect and Baroque music. After one or two songs I was done. I've long known that I needed to source new music to listen to while studying languages but it wasn't until now that I made it a priority. So the need to come up with interesting posts for WLT does indeed have its perks. Well. Interesting to me, that is.
My updated music collection for studying languages…
Some of the music resources (below) have been on my iTunes for years but most are new. And even though jazz is on the list, I'm not 100% sure about longterm results. Have you ever listened to jazz when studying? Is it just ok? More than bearable? The bee's knees?
What you will notice is that the majority of the songs have no lyrics. Some students don't find lyrics distracting but I do. Enormously. And there's a logical reason for this.
University of Phoenix: … listening to music with lyrics is an especially bad idea when studying languages, because lyrics affect the same parts of the brain that comprehend language.

"You think you're focused on your Spanish lesson," Axford says, "but your brain is also hearing — and is distracted by — the words to the song playing in the background."
I also discovered that I can't listen to instrumentals of songs (especially the Beatles) because I'm forever singing along. Distracting.
What I was chuffed to find is that there's an actual Study Music Project, thanks to the hard work and talents of Dennis Kuo. If you are interested in cheering Dennis on or even offering suggestions, follow him on his Facebook page: Study Music Project.
iTunes: Study Music Project: Music for the Mind
iTunes: Study Music Project 2: Cram Session
Below is even more music purchased from iTunes. Some have been created especially with the student in mind. It's early days but I can see how a music industry specifically for studying can only grow and improve.
iTunes: Exam Study Soft Jazz Music Collective
iTunes: 50 Revision Classics by Classic FM
iTunes: The Best of Baroque Music
iTunes: The Piano Guys
I only have one study playlist from YouTube to share with you. I guess that's because when I'm studying, I don't pay attention to visuals. There are sure to be many more so I'll source them later (when I have more time … time … so rare these days).
YouTube playlist: BEST Study Music Playlist
I barely managed to dip into last.fm and 8tracks.com but the potential is there. But beware of the lyrics in songs. I found several study compilations where they've added soft background voices. Even at a soft level voices soon become distracting.
last.fm: Beautiful Minds – Best Study Music, Music for Concentration
8tracks.com: study time
8tracks.com: audible adderall xxxr
8tracks.com: EDM Study Buddy
8tracks.com: Study With Accompaniment II
iTunes iOS app: 8tracks Radio
And here's a compilation I've been hooked on from the beginning of my search: The Journey: StellarDrone Schumann Mix.
The Schumann Resonances are electromagnetic waves that exist in the space between the surface of the Earth and the Ionosphere – 7.83, 14.3, 20.8, 27.3 and 33.8 Hz. They are said to be the heartbeat of mother earth.

When a person's brain waves resonate with 7.83 Hz, it has been shown in scientific studies to be an essential requirement for physical and psychological health. Laboratory research has also shown that exposing living cells to the Schumann Resonance had the effect of increasing their immune protection.
Do I believe the hype? Um, honestly, I just like his music. If you are interested, there's more at Stellardrone (name your price) or pay for Light Years and Echoes at iTunes. I did.
Note: I've left out other Brainwave/Binaural/Ambient type compilations on purpose. I do own a collection (most are on iOS apps). If you do use them with success, I'd be interested in any benefits you've found.
Even more study music resources to wade through…
classicfm: Music For Studying
Lifehacker: Ask the Readers: Best music for studying?
Lifehacker: Get Productive to Groove Salad
ExamTime: Music for Studying: 10 Tips to Pick the Best Study Music
So, what music do you listen to during your language studies? Bach, Beethoven, rock? Curious minds want to know!